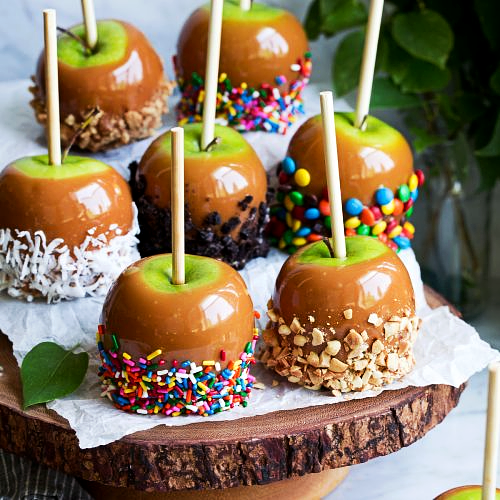 Ingredients:
EASY CARAMEL APPLES
7 cups water
3 tablespoons white vinegar
2 large Granny Smith apples
2 Pink Lady apples
4 sticks
2 14 oz. bags wrapped wrapped caramels
4 tablespoons water
1 teaspoon vanilla
toppings of your choice
2 cups semi-sweet morsels
2 cups white chocolate morsels
1 cup dark chocolate morsels
½ cup chopped peanuts
½ cup Heath Toffee Bits
various Halloween sprinkles
Halloween Nerds
Instructions:
EASY CARAMEL APPLES
Prepare a baking sheet by lining it with parchment paper and spraying it with cooking spray.
Pour water and vinegar into a large bowl. Wash the apples in the vinegar solution, drying them off completely.
Place the apples on the baking sheet and place a stick into the center of each, stopping at about 3/4 of the way through the apple. (This was the most difficult part of the process.)
Place the tray of apples into the freezer while preparing the caramels.
Unwrap the caramels and place into the top of a double broiler. The bottom should be filled halfway with water and brought to a simmer.
Add water and vanilla.
Stir continuously until caramels are completely melted. This could take you a little while, but just be patient. It will be worth it.
Do not boil the water and leave caramels unattended. You don't want burnt caramel. Don't ask me how I know. Remove apples from the freezer and remove caramel from heat.
Using one apple at a time, dip the apple into the caramel. Gently and slowly spin the apple until it is completely coated.
Allow excess caramel to drip back into the pan. Place onto prepared baking sheet and repeat with remaining apples.
Put the tray of apples into the refrigerator for at least 20 minutes for caramel to set.
Put desired toppings ie, candy, nuts, sprinkles into separate bowls.
If using chocolate for a second coating, place morsels into a microwave safe bowl and microwave for 30 seconds. Remove bowl and stir.
Remove apples from the refrigerator and one at a time, gently roll the apple in the chocolate followed by desired toppings.
Place finished apple onto a prepared baking sheet and refrigerate for 30 minutes until toppings are set.