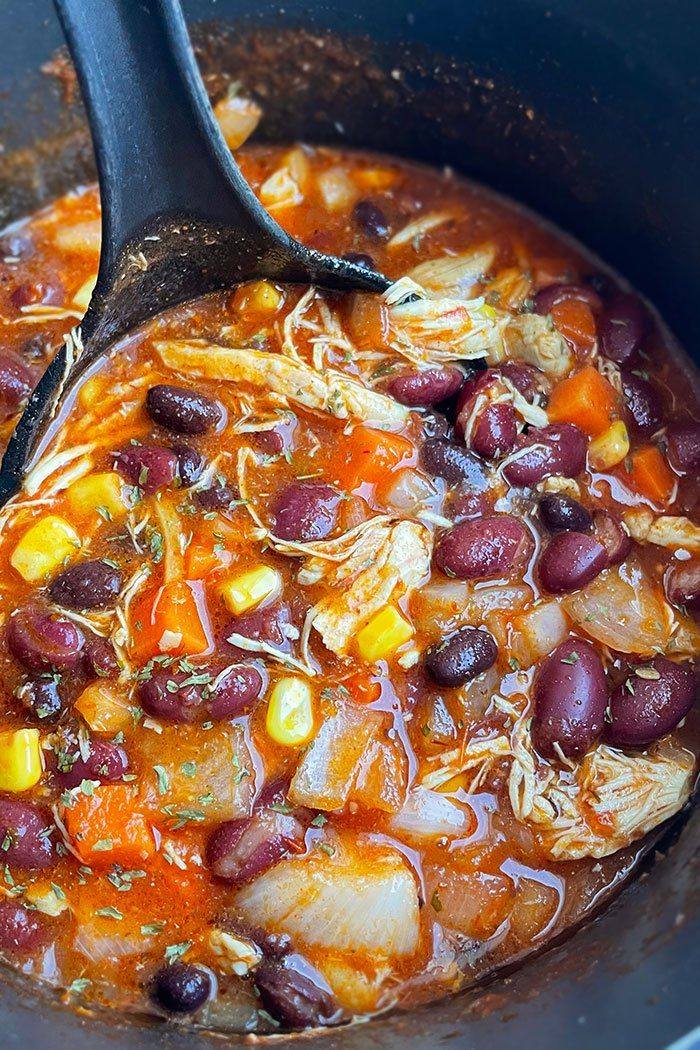 Southern-cuisine expert and cookbook author Diana Rattray has created more than 5,000 recipes and articles in her 20 years as a food writer.
Learn about The Spruce Eats' Editorial Process
Chicken and red bean chili in a bowl.
This tasty, well-seasoned chili recipe is made with chicken breast, vegetables, and canned red beans. It shows that you don't need to use red meat to make a hearty chili bursting with veggies such as bell peppers and onions. You can serve this chili for lunch, dinner, or as part of a game day spread.
This recipe keeps it simple by using canned kidney beans or canned small red beans. If you have dried beans, cook them following the package directions—they might need a lengthy soak, so plan accordingly.
22 Best Chili Recipes
Basic chili con carne with beans and beef recipe
Feel free to scale the recipe down by half, or scale it up for a crowd.
Ingredients
2 pounds boneless chicken breasts or thighs, diced
1 tablespoon olive oil
 tablespoon butter
 medium green bell pepper, diced
 medium red bell pepper, diced
1/2 cup chopped onion
1 clove garlic, minced
1 tablespoon chili powder
1/2 teaspoon ground cumin
2 (14-ounce) cans red beans (small red beans or kidney beans)
 (28-ounce) can diced tomatoes
 (6-ounce) can tomato paste
 (4-ounce) can mild green chili peppers, chopped
1 cup unsalted chicken stock
1 teaspoon sugar, optional
1/8 teaspoon cayenne
Kosher salt, to taste
Freshly ground black pepper, to taste
Steps to Make It
Ingredients for chicken chili.
Heat olive oil in a 5-quart Dutch oven or kettle over high heat. Add chicken and cook for about 4 to 5 minutes, or until thoroughly cooked and tender. With a slotted spoon, remove chicken to bowl; refrigerate until you are ready to add back to chili.
Browned chicken in a Dutch oven.
Add butter to same pan over medium heat; cook green and red peppers, onion, and garlic until vegetables are tender, stirring occasionally.
Add chili powder and cumin; stir to blend and cook for 1 minute. Stir in kidney beans with their liquid, tomatoes with their liquid, tomato paste, green chili peppers, and chicken stock. Add sugar and cayenne pepper, if using. Bring the chili to a boil and then reduce the heat to low. Simmer, uncovered, for about 25 to 30 minutes, stirring occasionally.
A pot of chicken chili.
Add chicken back to pot and continue cooking for 5 to 10 minutes. Taste and add kosher salt and ground black pepper, as desired.
Ladle chili into bowls and garnish as desired. You can top chili with sour cream, chopped green onions, cilantro, or shredded cheese. It also goes well with cornbread or crackers on the side.