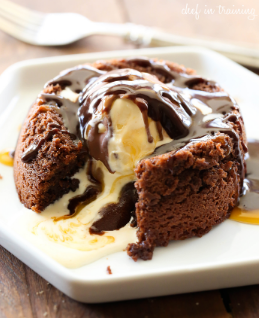 Ingredients:
4 oz. semi-sweet baking chocolate, I have also used 4 oz. semi-sweet chocolate chips with success
Instructions:
Preheat oven to 425 degrees F.

Spray 4 small (6-8 oz) ramekin dishes with cooking spray and place on a baking sheet. Set aside.

In a small microwave safe bowl, combine butter and chocolate and melt in 30 second increments, string between each increment until chocolate and butter are combined and smooth.

Add powdered sugar and stir in evenly.

Add eggs and egg yolks and beat in until well combined.

Stir in flour until well combined.

Pour and distribute batter evenly in the 4 prepared ramekin dishes.

Bake at 425 degrees F for 12-13 minutes until edges are firm and center is soft, but not super jiggly.

Let cool for 2 minutes. Using a knife, gently pull cake away from the edges then invert onto plate or serving dish.

Serve with dusted powdered sugar, ice cream, magic shell or however desired. No matter how you want to eat it, serve immediately.
Notes:
Recipe from: Carlsbad Cravings who got it from Kraft Recipes.