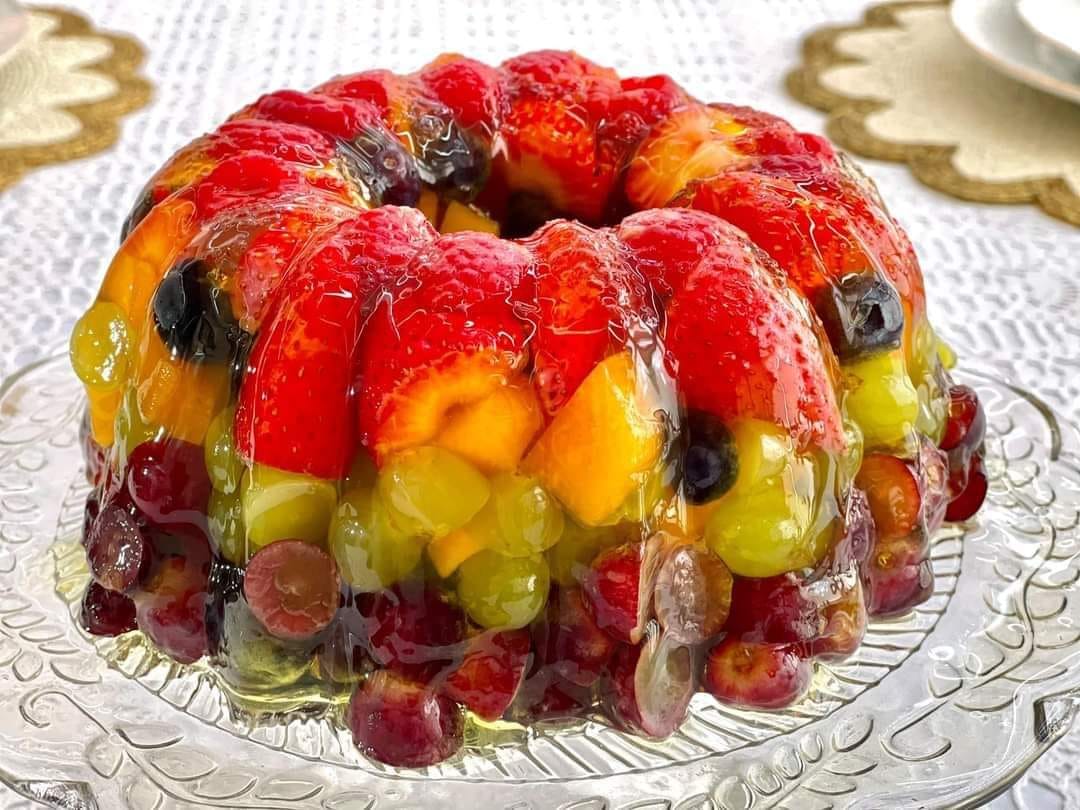 Ingredients:
150 gms Raspberries
250 gms Strawberries, hulled and quartered or halved
A handful blueberries (optional)
1 wedge of Mango, skin removed and cubed
250 gms Green Grapes, halved (remove seeds if you didn't use seedless)
250 gms Red Grapes, halved (remove seeds if you didn't use seedless)
Cantaloupe Melon – cubed (don't use watermelon)
Preparation Steps:
About 2 cups jelly mix – lemon flavour (Pineapple or Mango would be good too. Basically as the recipe I used stated, use a colour and flavour which is yellow/light orange so it sets off the colours of the fruit nicely. Any leftover mix can be set separately for other use.
Prepare all the fruit. Keep your mould ready. I used a 6 cup bundt tin, but you can use whatever you prefer.
Start by arranging the raspberries in the mould, then the strawberries (these will show on the top when you unmould it), blueberries if using.
Then arrange the mango and melon pieces, followed by the green grapes, and finally the red/purple grapes. Keep in mind when you're placing the fruit how you want it to look when you turn it over and unmould it.
Following box instructions, make your jello mix. Allow it to cool competently before pouring over the fruit in your mould. Shake the tray a little, so it goes through all the sides. Cover the fruit competently with the jello.
Place in fridge to set, for about 2 hours or more. To unmould it, pour hot water into a large bowl, and place the dish into it. As soon as you see a little bit melting on the sides, cover the jello with a serving plate and turn it over. If necessary, wipe off the sides around the jello.