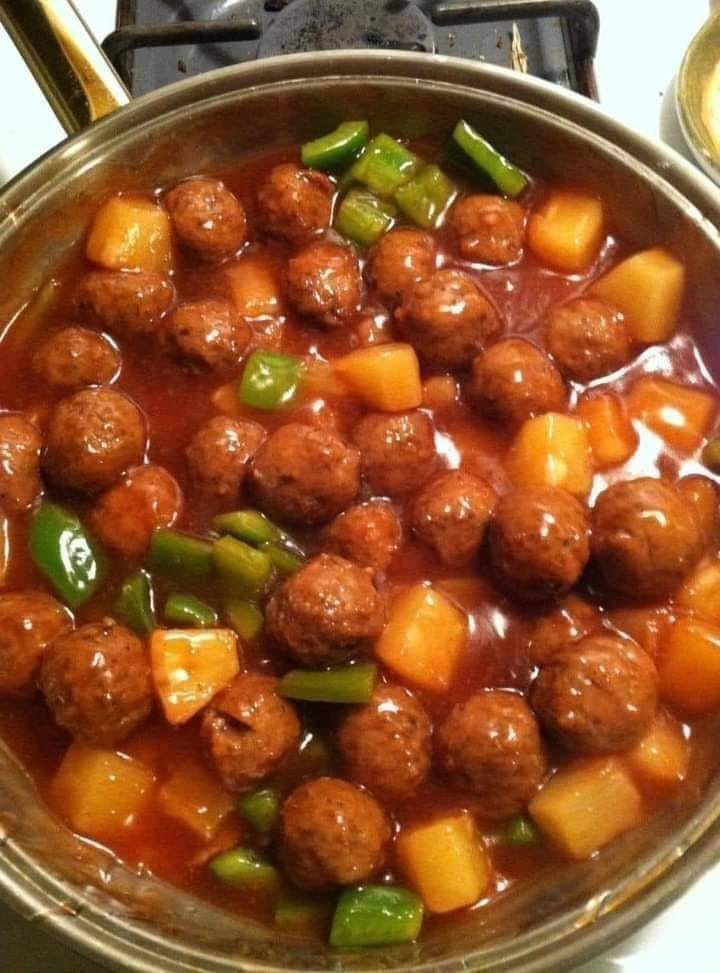 MEATBALLS :Sweet & Sour Meatballs 
1 pound hamburger
 2 eggs
 1 cup panko or bread crumbs
1 small onion, minced or grated
 1-2 garlic cloves (minced) or 1 Tbsp mixed spice with garlic
freshly ground pepper to taste
STEPS :
Mix all ingredients with hands. Form into golf ball sized meatballs, place on baking sheets. Bake at 350 degrees for 30 minutes. Makes approx. 30 meatballs. I like to put mine on the barbeque (on the baking sheets), it adds extra flavor.
SWEET & SOUR SAUCE :
½ cup Brown Sugar
 ¼ cup White Vinegar
 1 cup Water or Pineapple Juice
 2 Tbsp Cornstarch
 1 tsp Soya Sauce
 ¼ cup ketchup
STEPS :
Mix all ingredients and pour over cooked meatballs.
Add chunked green/red peppers, onions and pineapple as desired.
Bake at 350 for 30 mins until vegetables are tender or place in slow cooker on high for 2 hrs.
Please Follow our Page for more delicious written recipes
Enjoy!!