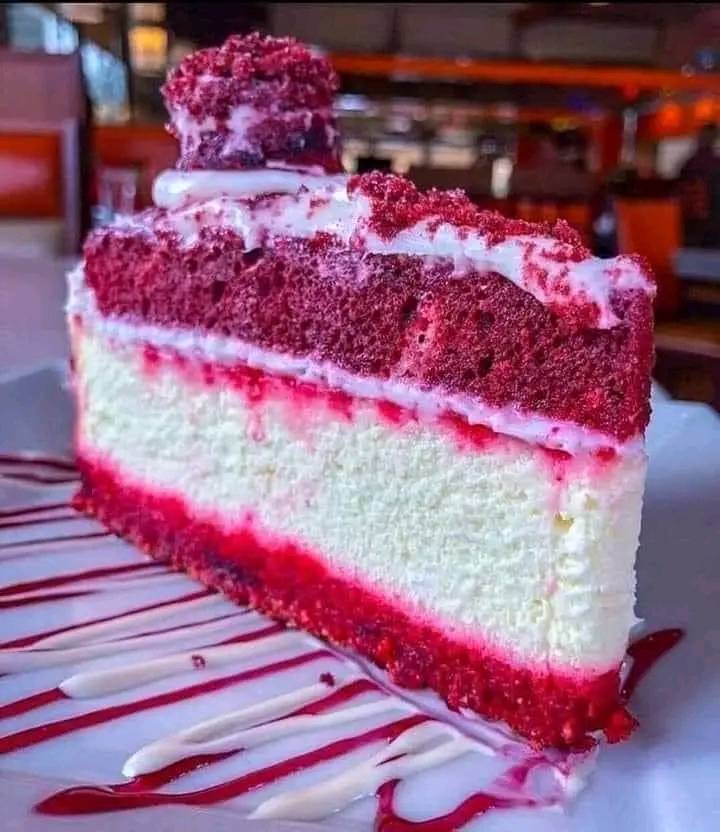 Ingredients:
Red Velvet Cake
2 1/4 cups sifted cake flour (sifted, then measured)
2 tablespoons unsweetened cocoa powder
1 1/4 teaspoon baking powder
1 teaspoon baking soda
1/2 teaspoon kosher salt
1 cup full fat buttermilk , room temperature
2 tbs red food coloring (one bottle)
1 teaspoon distilled white vinegar
1 teaspoon vanilla extract
1 1/2 cups sugar
1/2 cup (1 stick) unsalted butter, room temperature
2 large eggs , room temperature
Cheesecake
32 oz cream cheese
16 oz sour cream
2 cups sugar
2 teaspoon vanilla
6 eggs
Topping
1/2 cup heavy cream
1 teaspoonful white chocolate instant pudding mix
2 tablespoons of sugar as needed
Directions:
Preheat oven to 350°F.
Sift sifted flour, cocoa powder, baking powder, baking soda, and salt intoa bowl.
Blend the buttermilk, food coloring, vinegar, and vanilla in another bowl .
Beat the sugar and butter in large bowl until light and fluffy.
Add eggs 1 at a time, beating well blended after each addition
Beat in dry ingredients in 3 additions alternately with buttermilk mixture in 2 additions.
Put about 1/4 inch of cake batter in the bottom of a greased and floured 10 inch springform.
Use the rest of the batter in a 13×9 or 9 inch cake pan.
Bake both pans for about 20 minutes or until a toothpick comes out clean.
Cool in pans about 5 minutes and turn out to cool completely.
Break the larger cake (NOT the one in the springform) into large chunks and set aside.
(can be done a day ahead)
Preparation time: 10 minute(s)
Cheesecake
Preheat oven to 375F
Beat the cheesecake ingredients together until smooth.
Reserve about 1/2 cup cake crumbs for the top.
Fold the remaining cake chunks into cheesecake batter.
Pour into pan.
Cover the bottom of the springform (the one with the cake layer in it) with aluminum foil, bringing it up the sides.
Place pan in larger pan of hot water. Water should come halfway up the sides.
Bake for 45 minutes.
Turn oven off and leave door closed for 1 hour.