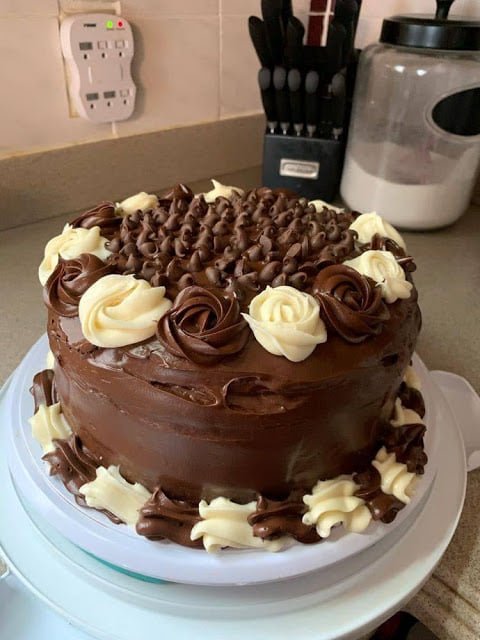 Ingredients:
Adapted from Hershey's

2 cups sugar

1 & 3/4 cups flour

3/4 cup cocoa powder

1 & 1/2 teaspoons baking powder

1 & 1/2 teaspoons baking soda

1 teaspoon salt

2 eggs

1 cup milk or heavy Cream

1/2 cup vegetable oil

2 teaspoons vanilla

1 cup boiling water
For the Whipped Cream Cheese Buttercream:
1 cup cream cheese

3/4 cup butter

1/2 tablespoon vanilla extract

4 cups powdered sugar

For the Chocolate Cream Cheese Buttercream:

3/4 cup of butter

3/4 cup of cream cheese

1 & 3/4 cups Hershey's cocoa powder

5 cups powdered sugar

1/2 cup + 3 tablespoons whole Milk

2 teaspoons vanilla extract
Instructions:
Hershey's Chocolate Cake:
1: First, preheat your oven to 350F.
2: Spray 3 round cake pans with cooking spray
3: Dust the pans lightly with flour, set aside.
4: In a Large mixing bowl or kitchen aid mixer combine the Flour, Hershey's cocoa, sugar, baking powder, baking soda, and the salt.
5: Add in the milk, oil, eggs and the vanilla extract & mix until everything is thoroughly incorporated. Once all combined, stir in the boiling water last; mix again, the batter will be very thin.
6: Pour the batter evenly in each of the sprayed/floured cake pans
7: Bake for 30-35 minutes, or until a toothpick inserted in the center of each layer comes out clean. Once fully baked, remove from oven & allow the 3 cakes to cool for at least 10-15 minutes before removing them.
8: Once removed, transfer to a wire rack to finish cooling completely.
I always use a cake leveler to make sure the layers are even, you can also use a serrated knife
Step9: While they finish cooling, prepare your frostings.
Whipped Cream Cheese Buttercream Frosting Instructions:
1: Whip the cream cheese & the butter with an electric mixer on high speed for about 30 seconds. Once combined begin adding in 1/2 cup of powdered sugar at time, making sure each half cup is fully incorporated before mixing in another 1/2 cup., add in the vanilla extract & whip one last time for about 30 more seconds on high and beat one minute more until nice & fluffy Chocolate Cream Cheese Buttercream Frosting Instructions:
1: In a large bowl beat the butter & cream cheese with an electric mixer and begin adding in the powdered sugar 1/2 cup at a time again
add in the cocoa and the milk & vanilla
2: Whip all of the ingredients until they are thoroughly incorporated
3: Beat at High speed for about one minute or until fluffy.
Once you are ready to assemble the cake:
1: Level the cakes with a cake leveler to assure perfect stacking of the cake layers
2: Place the bottom layer on a cake plate.
3: Spread 3/4 cup of the cream cheese buttercream filling over the bottom cake layer
4: Top with the second leveled layer and repeat the process.
5: Lastly, top with the third layer.
6: Frost just the very top with the remaining Whipped cream cheese buttercream & refrigerate for about 15 minutes
7: Finally, remove from the refrigerator & frost the top layer gently with the chocolate cream cheese buttercream & all over the sides of the cake.
8: Refrigerate until ready to serve.