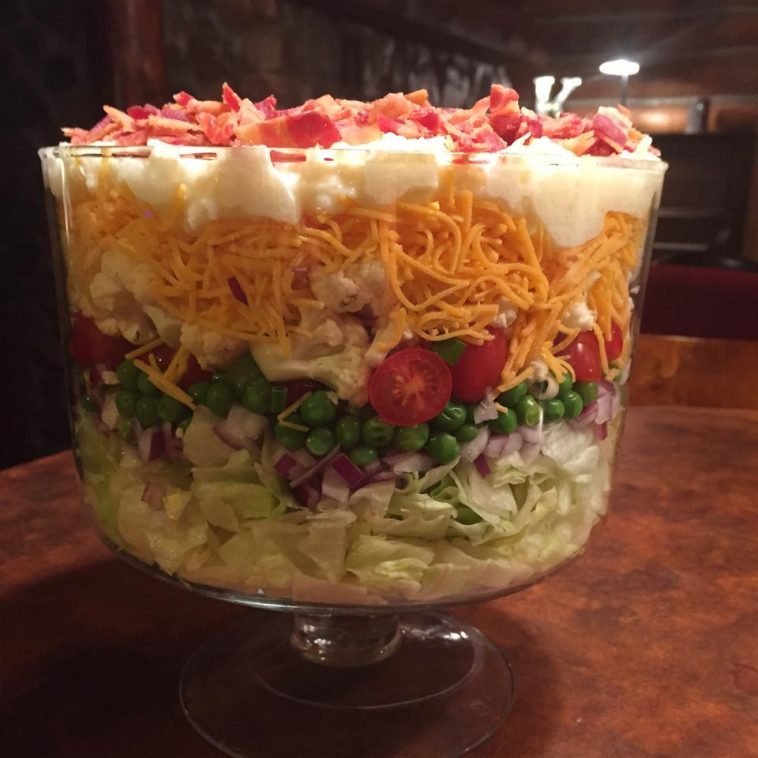 My Grandma Made this " 30-Minutes 7-Layer Salad "y'all help me make her day with compliments …Thanks 
INGREDIENTS:
1 pound bacon
1 large head iceberg lettuce (totally rinsed, dried, and chopped)
1 red onion, chopped
1 (10 oz.) package frozen green peas, thawed
10 oz. shredded Cheddar cheese
1 cup chopped cauliflower
1 ¼ cups mayonnaise
2 tbsp. white sugar
⅔ cup grated Parmesan cheese
DIRECTIONS:
-Add bacon in a large skillet and cook over medium-high heat until evenly brown. Crumble and set aside
-Place the chopped lettuce in a large flat bowl, layer with onion, peas, shredded cheese, cauliflower, and bacon on top.
-Prepare your dressing by whisking the mayonnaise, sugar, and Parmesan cheese together. -Drizzle over salad, refrigerate until chilled.