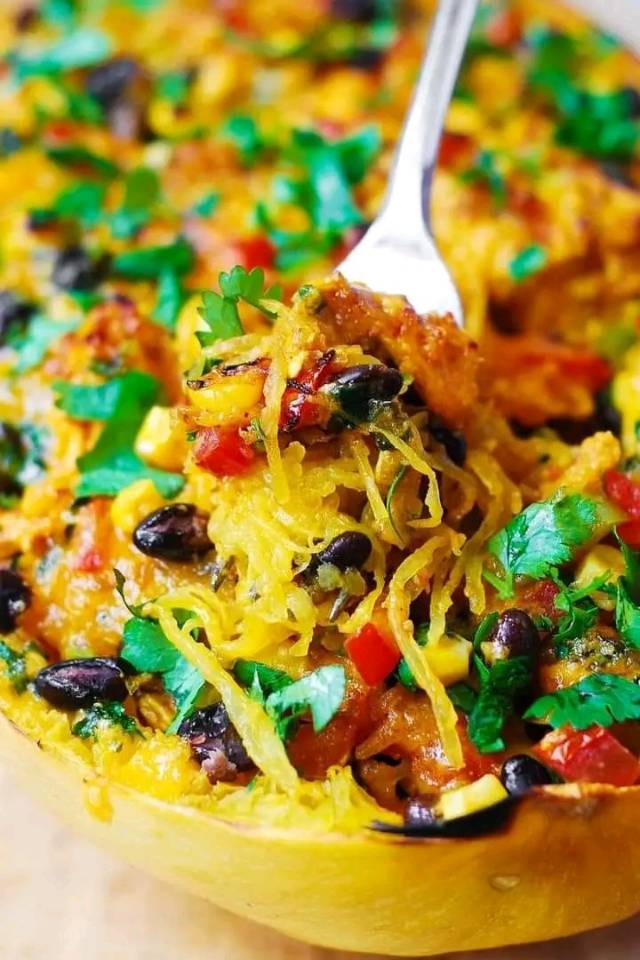 Ingredients:
1 spaghetti squash whole
 1 tablespoon olive oil
 1 lb chicken breast chopped
 1 tablespoon ground cumin
 1 tablespoon chili powder
 ½ teaspoon turmeric
 ¼ teaspoon salt
 1 green bell pepper chopped
 4 roma tomatoes chopped
 15 oz corn from the can, drained
 15 oz black beans from the can, rinsed and drained
 4.5 oz green chilies from the can, diced
 1 ½ cups Cheddar cheese shredded
 ½ bunch fresh cilantro chopped
Instructions
Preheat oven to 400 F.
Cook spaghetti squash according to these easy instructions for cooking spaghetti squash.
At this point, you should have 2 empty spaghetti squash halves, with the flesh strands removed to a bowl.
Heat olive oil in a large skillet on medium heat. Add chopped chicken breast, sprinkle with half the amount of cumin, half the chili powder, half the amount of turmeric, and ¼ teaspoon salt. Cook, stirring occasionally, for about 7-10 minutes until the chicken is cooked through completely.
Add chopped bell pepper, chopped tomatoes, drained corn, drained black beans, and diced green chilies to the skillet with chicken, add the remaining spices (the remaining half amounts of cumin, chili powder, and turmeric), and stir everything to combine. Remove from heat.
Add the spaghetti squash flesh to the skillet with the chicken mixture. If the skillet is not large enough, use a large bowl and combine the spaghetti squash flesh and all the chicken mixture from the skillet in a large bowl. Stir to combine. Taste and add more salt, and more spices (cumin and chili powder) if needed.
Set the oven to broil.
Stuff each squash half with the mixture from t