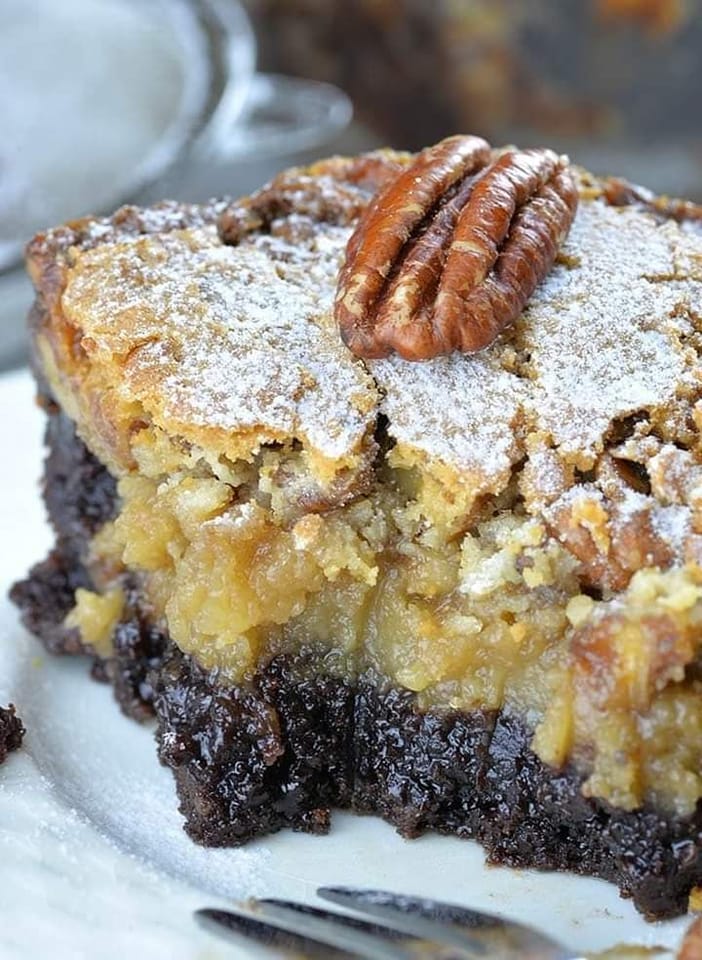 Ingredients:

Bottom Layer:

1 box (18 oz.) brownie mix

1 egg

½ cup unsalted butter-melted

water (if needed)

Pecan Pie Filling:

3 eggs

1/3 cup light brown sugar

1/4 cup sugar

1 cup light corn syrup

¼ cup salted butter- melted

2 teaspoons vanilla extract

2 cups pecans-coarsely chopped

Top Layer:

8 oz. cream cheese-softened

3 eggs

1 ½ teaspoons vanilla

1/2 cup unsalted butter-melted and slightly cooled


3 1/3 cups powdered sugar
Instructions:
Preheat the oven to 325 F and grease 9 x 13 baking dish with non-stick cooking spray.
To make the bottom layer, stir together brownie mix, ½ cup melted butter and 1 egg. The mixture should be thick. If it's not come together add 1 tablespoon of water at the time, until everything is well blended, but to stay thick. Pat the mixture on the bottom of the pan to make an even layer.
To make the Pecan pie filling mix together 3 eggs, sugar and brown sugar, vanilla, melted butter and corn syrup until well blended. Fold in pecans and spread over the bottom layer.
To make the topping on low speed mix together cream cheese, melted butter, eggs and vanilla. Gradually add powdered sugar. Spoon the mixture over pecan filling.
Bake at 325 F for 55-75 minutes. It should be a little jiggly in the center when finished baking, but cheesecake part should be firm to the touch. If it starts browning too much tent the top with aluminum foil. Cool on a wire rack before serving.