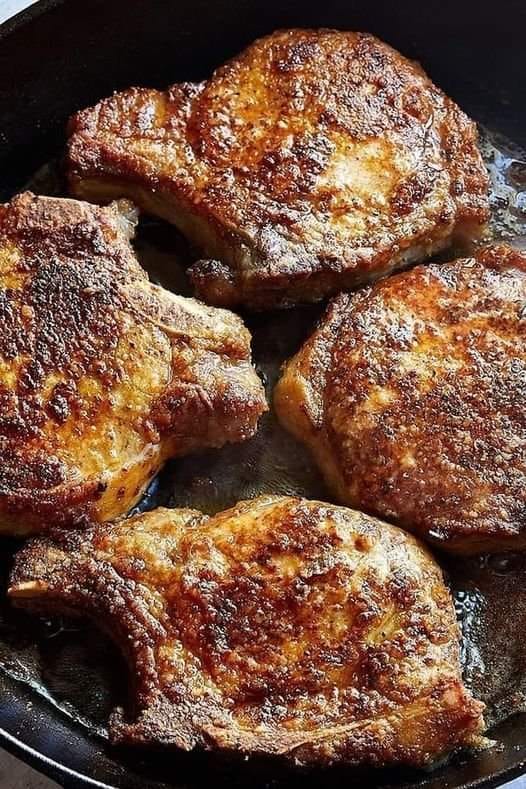 INGREDIENTS:
4bone-in pork chops
1Tbsp Dijon mustard
1tsp granulated garlic
1tsp granulated onion
1tsp kosher salt
1/2tsp freshly ground black pepper
1/2tsp cayenne pepper plus more to taste
4bacon strips
1/2cup vegetable oil
1/2cup all-purpose flour
DIRECTIONS:
1: In a small bowl, combine granulated garlic, onion, salt, black pepper, and cayenne pepper.
2: Pat dry pork chops with a paper towel. Using your hands, rub Dijon mustard all over the pork chops.
3: Sprinkle the spice mix and evenly rub into the chops on each side.
4: Dredge in flour really well on both sides and set aside.
5: Preheat a large, about 12-13-inch, heavy (cast iron is recommended) frying pan over medium-high heat.
6: Fry the bacon strips, on both sides, until crisp and fat has rendered out. Remove the bacon and reserve it for other uses.
7: Add vegetable oil to the frying pan. Let the oil warm up to cooking temperature, about 325F.
8: Dredge each pork chop in flour again, making sure each side is covered really well.
9: Place in the frying pan and cook over medium heat for about 4-5 minutes per side, until deep golden brown and the internal temperature of the pork reached 145F.
10: Cooking time will depend on the thickness of the pork chops you are using.
11: Remove pork chops, place on a platter and cover with foil and let rest for 3 minutes before serving.
Enjoy !!