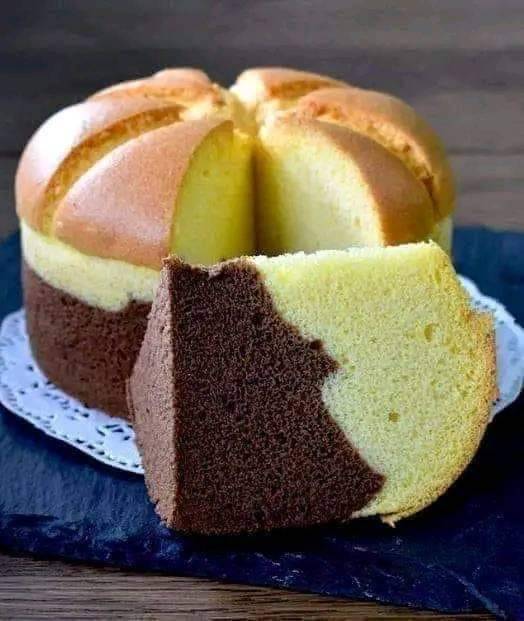 Ingredients:BROWNIE BUTTER CAKE
(For the brownie)
1 cup dark chocolate chips
1/4 cup butter
1/4 cup sugar
1 whole egg
1/4 cup flour
1/2 teaspoon Cocoa powder
(For butter cake)
1 cup flour
1/4 teaspoon baking powder
1 cup sugar
3/4 cup butter
2 Whole Eggs
(For the brownie)
1 cup dark chocolate chips
1/4 cup butter
1/4 cup sugar
1 whole egg
1/4 cup flour
1/2 teaspoon Cocoa powder
(For butter cake)
1 cup flour
1/4 teaspoon baking powder
1 cup sugar
3/4 cup butter
2 Whole Eggs
3 tablespoon Milk
1 teaspoon vanilla extract
method:
1. To begin with Brownie Butter cake, preheat the oven at 180°c
2. Grease or line an 8″ inch loaf pan with parchment paper.
3. Melt chocolate chips and butter in a microwave or in sauce pan containing water placed on heat. Once it is melted, add sugar in the melted chocolate mixture and stir well. Keep it aside to cool.
4. Once cool a bit, add egg and vanilla extract and whisk again. Sift flour, Cocoa powder and add to melted chocolate mixture using folding method to make a nice batter.
5. Pour in the batter in the prepared pan and bake for 15 mins only.
6. The next step is to make the butter cake. Take butter and sugar in a bowl and beat until light and creamy.
7. Add the eggs and vanilla extract and beat it very nicely till it becomes creamy and frothy.
8. Sift flour and baking powder together and add into the egg mix. Fold in gently and slowly add milk to make a smooth and silky batter.
9. After 15 mins the brownie must be half done, remove the pan from the oven and pour in the cake batter over the brownie.
Please do it gently to settle the air bubbles and put the pan inside the oven.
Reduce the oven temperature to 160°C and bake for another 25-30 mins or till the toothpick inserted comes out clean.
Take out the pan and let it rest on a wire rack for 10-15 mins. Carefully hold the parchment paper and lift the cake from the pan and keep it on a tray and allow it to cool completely.
Serve Brownie Butter cake and enjoy