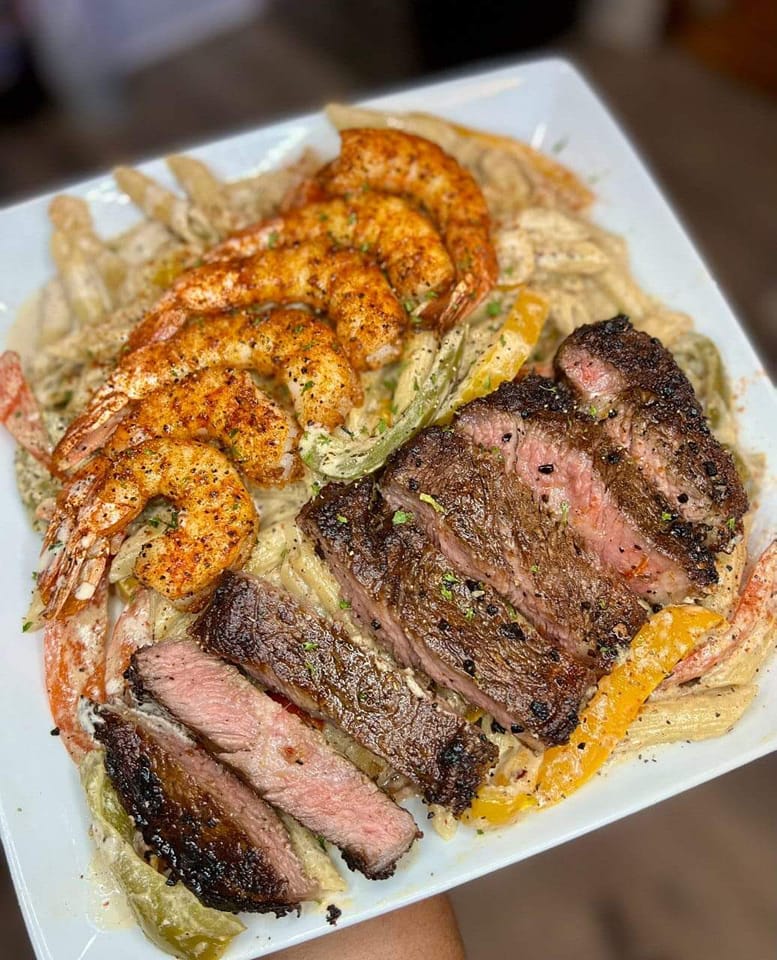 Ingredients:
4 cups or 400g of large shrimp
4 tbsp of jerk sauce
1-2 tsp of adobo seasoning
350 g of penne pasta
2 crushed garlic cloves
1/2 yellow capsicum pepper
1/2 red capsicum pepper
1/2 green capsicum pepper
3 cups heavy cream
1/4 tsp of garlic seasoning
1/4 tsp onion powder
2 tsp of paprika
3 green onions/spring onions
1/2 a cup of parmesan
1/2 a cup of mozzarella
1/2 a cup of cheddar
Oil
Instructions:
Marinate shrimp with 2 tbsp of jerk sauce and 1/4 tsp of adobo. Refrigerate for 10 minutes or while you prepare the pasta.
Boil salted water in a saucepan. Once the water has boiled add 350g of penne pasta and cook for 10-12 minutes. When the pasta is ready drain and set aside to add to the Rasta pasta sauce later.
While the pasta cooks heat a splash of oil in a pan. Then, add shrimps and cook on both sides for 3-4 minutes. Remove from the pot and set shrimp aside for later.
Next, add 2-3 chopped garlic cloves, ½ a chopped red bell pepper, ½ a yellow red bell pepper, ½ a green bell pepper, and spring onions/green onions/scallions to the same saucepan that the shrimp was cooked in. Make sure you leave all the shrimp juices in the saucepan for more flavour. Then stir and cook for a 2-3 minutes or until fragrant.
Pour 3 cups of double cream into the saucepan. Then add 1/2 tsp of adobo, 1 tbsp of jerk sauce, 2 tsp of paprika, ¼ tsp of onion powder, ¼ garlic powder and stir on a low heat for 5 mins while it thickens.
Once the sauce has thickened add ½ a cup of mozzarella, ½ cup of parmesan, ½ a cup of cheddar and stir.
Add 350g of the cooked penne pasta, jerk shrimp, and stir. Leave the Rasta pasta to cook on a low heat for a few more minutes and serve!