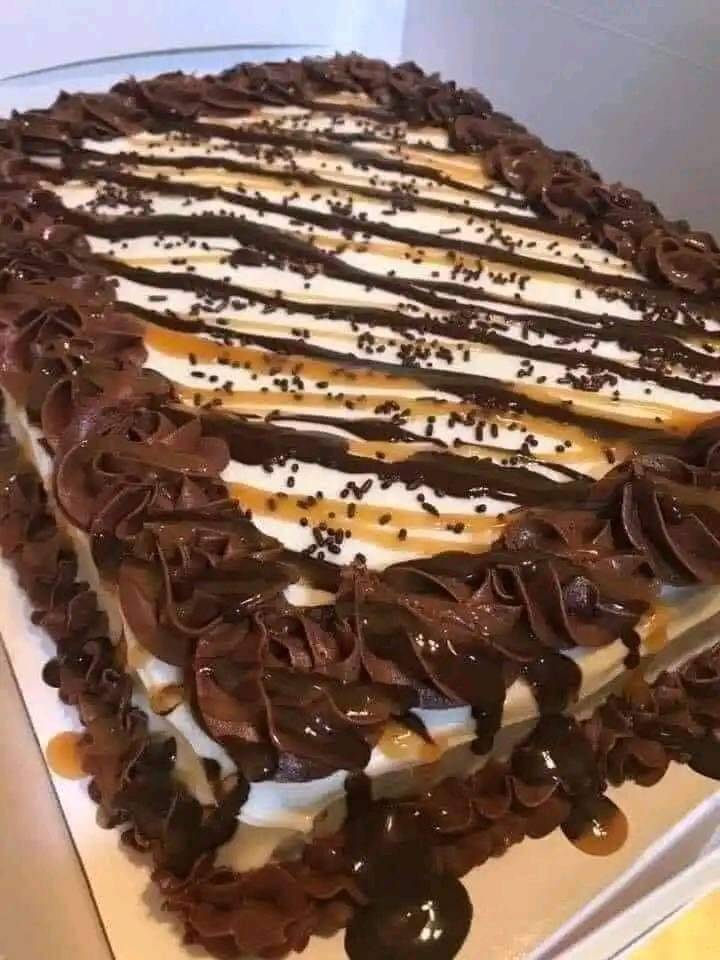 INGREDIENTS:
4 packages (32 ounces) cream cheese, softened
1 1/4 cups (250g) granulated sugar, superfine
1/2 cup sour cream, room temperature
2 teaspoons vanilla extract
5 large eggs, room temperature
CHOCOLATE CAKE
1 3/4 cups (210g) all-purpose flour
2 teaspoons vanilla extract
2 x-large eggs, room temperature
1/2 cup (112g) vegetable oil
1 cup (240g) buttermilk, room temperature
1 teaspoon Kosher salt
1 teaspoon baking powder
2 teaspoons baking soda
3/4 cup (90g) unsweetened cocoa powder
2 cups (400g) granulated sugar
1 cup (237g) freshly brewed hot coffee (I use decaf), or hot water
CHOCOLATE BUTTERCREAM
1 1/2 cups (340g) unsalted butter, room temperature
4 cups (500g) confectioners' sugar
3/4 cup (94g) cocoa powder
4 tablespoons heavy whipping cream
2 teaspoons vanilla extract
1 pinch salt
TOPPINGS
1 jar salted caramel sauce
1 bag mini chocolate chips
INSTRUCTIONS:
CHEESECAKE
Preheat oven to 350°F. Prepare 9-inch springform pan by spraying with bakers spray and lining with parchment.
Use an electric mixer or stand mixer fitted with the whisk attachment to mix cream cheese until creamed.
Beat in the sugar and scrape down the sides of the bowl.
Add in the sour cream and vanilla.
Blend until smooth and creamy. Scrape down the sides of the bowl. With the mixer on low, add in eggs one by one until fully incorporated.
Pour the filling into the prepared 9-inch pan.
Place your springform pan with the cheesecake in it into a slightly larger pan and add about 1 inch of hot water to the outside of the pan (for the water bath).
Bake until the top of cheesecake turns golden, about 60 – 70 minutes. Let cheesecake cool on a wire rack.
Refrigerate for at least 2 hours before assembling the cake.
CHOCOLATE CAKE
Preheat oven to 350°F.
Sift the flour, sugar, cocoa, baking soda, baking powder, and salt into the bowl and mix until combined.