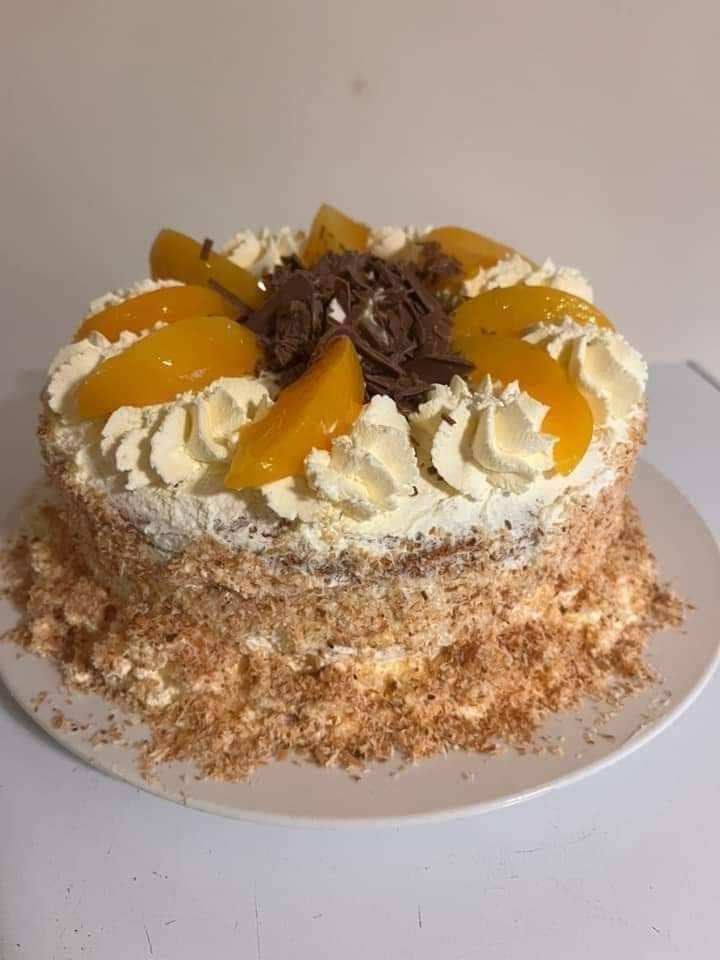 Ingredients:
1½ cups cake flour
2½ tsp baking powder
¼ tsp salt
¾ cup caster sugar
180g soft butter
3 large eggs
2 tsp vanilla essence
Filling:
600ml fresh cream
2 tbsp sugar
1 tsp vanilla essence
Strawberry / apricot jam (optional)
Topping:
Left over cream from the filling
Canned apricot / peaches slices or fresh strawberries
Method:
Pre-heat your oven to 170°C.
Grease two 18cm round cake pan and line bottoms with greaseproof paper.
In a bowl, sift the flour, baking powder and salt.
Using another bowl, cream the butter and sugar until light, fluffy and creamy.
Beat the eggs in one at a time.
Slowly fold in the dry ingredients. Stir gently until all the ingredients are incorporated.
Do not overmix.
Divide the batter evenly between the two prepared cake pan.
Bake for 15 – 20 minutes or until a toothpick inserted in the middle comes out clean.
Take out of the oven and leave to cool in the pans for 10 minutes before turning the
cakes out onto a wire rack. Cool completely.
Filling:
In a clean bowl whip the fresh cream, sugar and vanilla essence until the cream hold a stiff peak.
When the cakes are cool, sandwich together with a layer of jam, if you're using it and a third of the whipped cream.
Spread the remaining cream over the top and sides.
Garnish / dip the sides with crushed peanuts or roasted desiccated coconut.
Top with slices of canned apricot, peaches or slices of fresh strawberries.