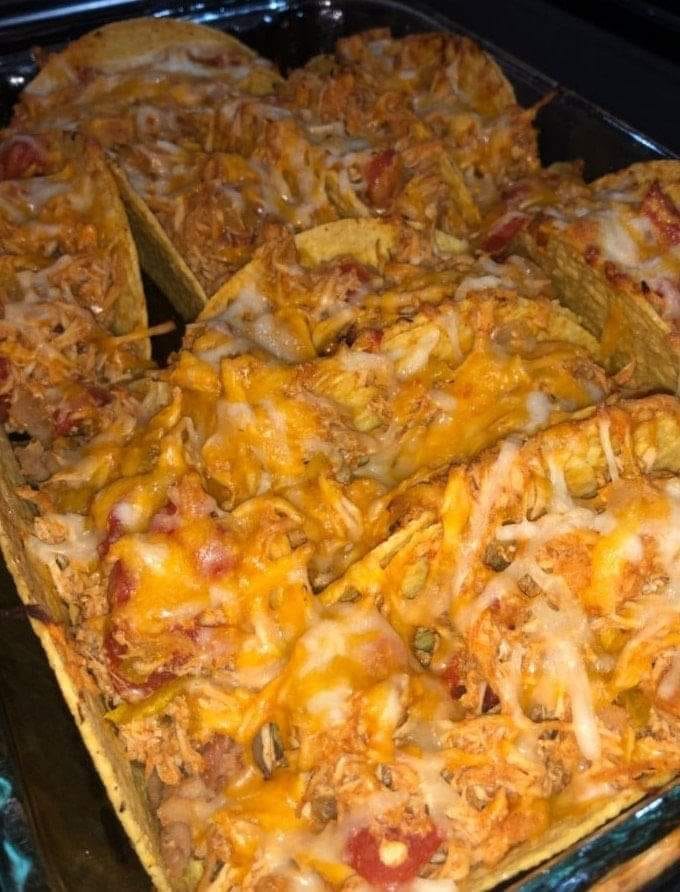 Ingredients:
1 pound ground lean beef
1 package taco seasoning
1 onion
10 ounces canned tomatoes with chilis such as rotel
12-14 crisp taco shells
2 ½ cups cheddar or jack cheese divided
TOPPINGS:
lettuce
tomatoes
sour cream
salsa
Instructions:
Step1: Preheat oven to 400°F.
Step2: Cook ground beef and onion until no pink remains. Drain fat. Add in taco seasoning, undrained tomatoes and ¼ cup water. Cook until no liquid remains (about 5 minutes).
Step3: Place your taco shells in a 9×13 pan. Use small balls of foil between every second shell to help them stand up if needed.
Step4: Divide 1 ½ cups of cheese between the shells. Top with meat mixture divided between shells and finally top with remaining cheese.
Step5: Bake 15-18 minutes or until cheese melts. Top with desired toppings and serve immediately.