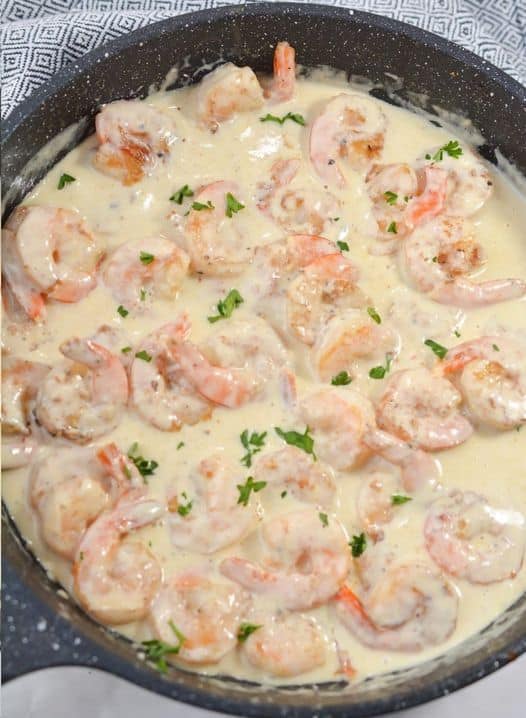 INGREDIENTS:
1 tbsp olive oil
1-lb (500 grams) shrimp, tails on or off
Salt and pepper, to taste
2 tbsp unsalted butter
6 cloves garlic minced
1/2 c dry white wine* or chicken broth
1 1/2 c reduced-fat cream**
1/2 c fresh grated Parmesan cheese
2 tbsp fresh chopped parsley
INSTRUCTIONS:
1: Place a large skillet on the stove and turn the heat to medium-high.
2: Add the oil and allow it to become hot.
3: Season with salt and pepper the 1 pound of shrimp.
4: Add the seasoned shrimp into the hot skillet and fry each side for about 1 to 2 minutes or until opaque.
5: Remove the shrimp from the skillet and place them on a clean plate, then set aside.
6: In the same skillet, add the butter and allow it to melt.
7: Add the garlic and sauté for 30 seconds or until aromatic.
8: Add the broth or white wine. Stir and scrape the bottom of the skillet to get the brown bits.
9: Turn the heat down to low-medium, then add the cream. Allow the mixture to simmer. Season with salt and pepper and make sure to stir from time to time.
10: Add the Parmesan cheese and simmer for 1 more minute or until thick.
11: Put the shrimp back to the skillet and sprinkle parsley on top. Add more salt and pepper if needed.
12: Remove the skillet from the heat.
13: Serve this dish over rice, steamed veggies, or pasta. Enjoy!