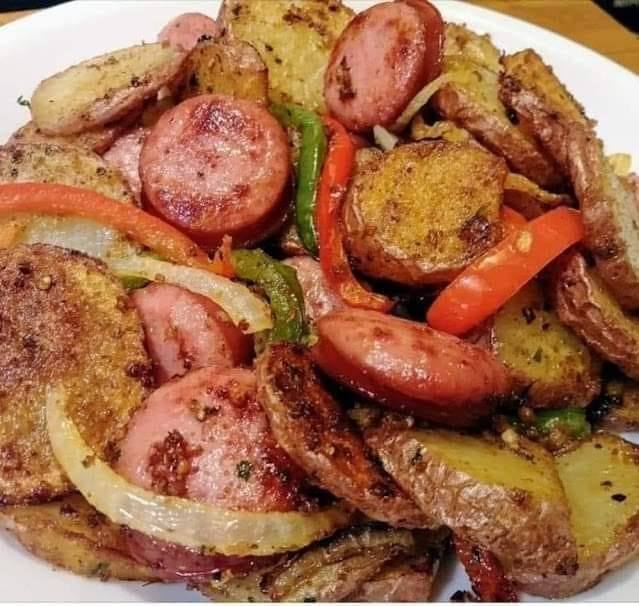 INGREDIENTS: Fried Potatoes Onions And Smoked Polish Sausage 
1½ pounds.

From the fermented potatoes, cut them in half cubes.

A pound of smoked sausage slices.

2 tbsp.

of olive oil.

Half a teaspoon of seasoned salt.

½ tsp.

of Italian spices.

½ large red pepper

½ large green pepper.

Small onion cut into cubes.

Black pepper to taste, grated Parmesan cheese, for garnish.
METHODS:
In a large skillet, fry the onions in 1 tablespoon of butter over medium heat until onions are translucent.
Second, cook onions until soft. Remove the onions from the pan and set them aside.
In a large skillet, heat 1 tablespoon butter and 1 tablespoon olive oil until butter melts, and add potatoes, seasoned salt, Italian seasoning, and pepper.
Next, cover and simmer over low heat, stirring occasionally, for 15 minutes or until vegetables are somewhat cooked.
Then cook for another 10 minutes after adding the sausage. Combine onion and pepper in a large skillet and saute until pepper is soft and crunchy.
Finally, if using Parmesan cheese, sprinkle it on top.