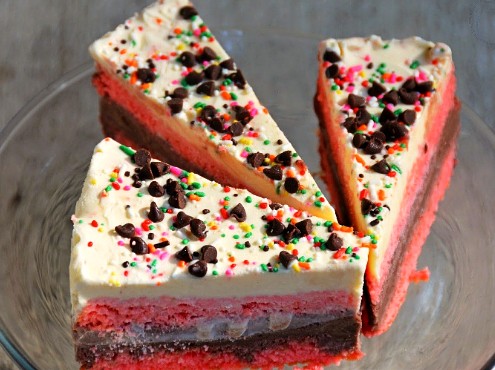 Ingredients:
1 1/2 liter Chocolate Ice cream , softened

1 1/2 liter Vanilla Ice cream

1 cup Decorative sugar (Cake/ Candy Sprinkles) , for decorating
Ingredients for Homemade Strawberry Cake
4 Whole Eggs , at room temperature

2 cups All Purpose Flour (Maida)

2 teaspoon Vanilla Extract

1/2 teaspoon Strawberry Essense
DIRECTIONS:
To start making this Homemade Ice-Cream Cake Recipe, prep the Spring form baking pan with butter and flour, line the base with parchment paper; Set aside. For an ice-cream cake, it is best to use a cake pan with a removable base. When the ice-cream cake is frozen, it can be removed easily.

Sift the baking powder, flour and salt together, set aside.

Preheat the oven at 375 degree F.

Whisk the eggs and sugar until light yellow and fluffy.

Add vanilla and oil; beat on medium speed for about 3 minutes.

Pour flour, a little at a time, alternating with milk. Whisk on low speed until combined. Add strawberry flavour and combine.

Pour the cake batter into the prepared baking pan, bake for 25 to 28 minutes, or until a skewer inserted in the centre of the cake comes out clean.

Remove from the oven, and cool completely. Cut the top off, and divide the cake into two equal layers.

Work quickly while assembling the cake, else the ice-cream can melt right into the cake layer! Freeze the cake after every layer, if you live in warm temperatures. Also, I didn't ice the entire cake with frosting. I have applied frosting on top of the cake, mostly. This cake has enough calories already.

Cut the cake with a knife dipped in warm water, serve Homemade Ice-Cream Cake Recipe immediately.

Enjoy !