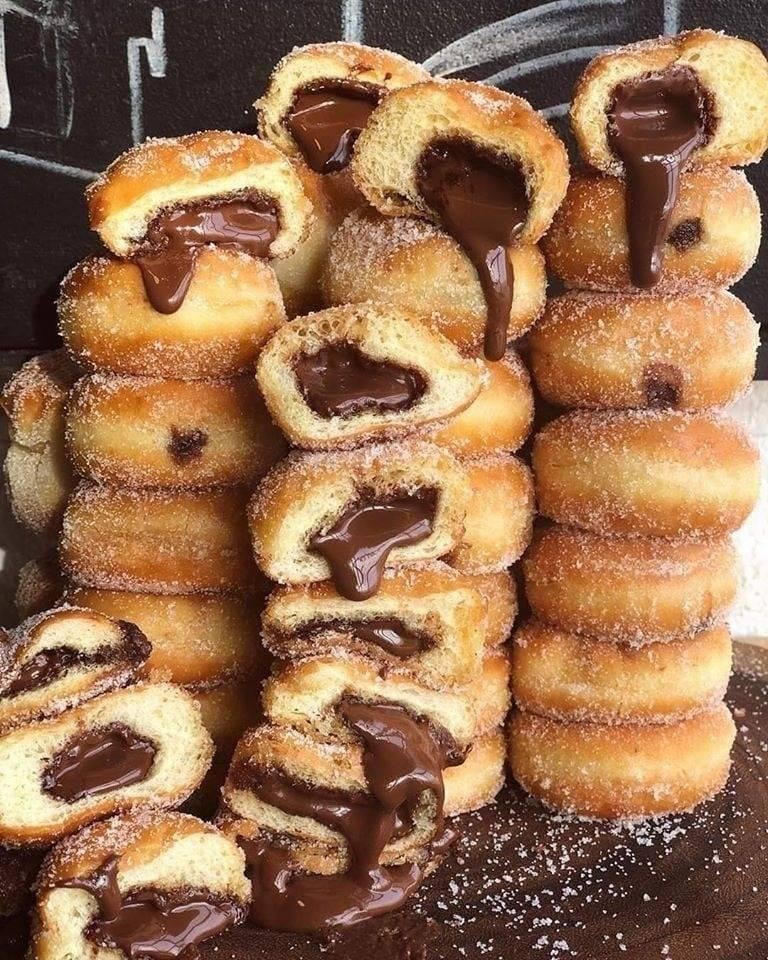 Ingredients:
3 cups bread or all-purpose flour
2¼ teaspoons fast-acting dry yeast
2 teaspoons salt
1/4 cup granulated sugar,
Plus more for coating 1 lemon,
Zested 2 eggs,
Lightly beaten
3/4 cup whole milk
1/2 stick (4 tablespoons) butter,
Softened
1 teaspoon vanilla extract Vegetable oil,
for frying Chocolate-hazelnut spread,
jam or pastry cream, for filling
Instructions:
1: In a large bowl or the bowl of a stand mixer fitted with a dough hook, combine the flour, yeast, salt, sugar, and lemon zest.
2: Then add the eggs, milk, butter, and vanilla extract, and mix well. Knead the dough in the stand mixer for 2 minutes, or if making the dough by hand.
3: Tip it onto a floured work surface and knead for about 5 minutes, until it's smooth and elastic but still quite sticky.
4: Transfer the dough to a large, lightly oiled bowl. Cover with plastic wrap and allow to rise in a warm place for 1 hour or until doubled in size.
Step5: Using a rolling pin, roll out the dough until about 3/4 inch thick. Then, using a round pastry cutter the size of a cup, cut the dough into disks.
6: Place the dough on a baking sheet lined with parchment paper, and cover with plastic wrap. Allow rising for another hour.
7: Heat oil in a large, deep pan to 350 F. Fry the doughnuts, in batches, for 4-5 minutes, turning halfway through the cooking time, until golden brown.
8: Remove with a slotted spoon and drain on paper towels. Dredge the doughnuts in granulated sugar until completely covered. 4. Spoon the filling of your choice into a piping bag fitted with a medium nozzle. Make a small hole in the side of each doughnut, push in the nozzle and squeeze to fill the bomboloni. Serve warm
Enjoy!