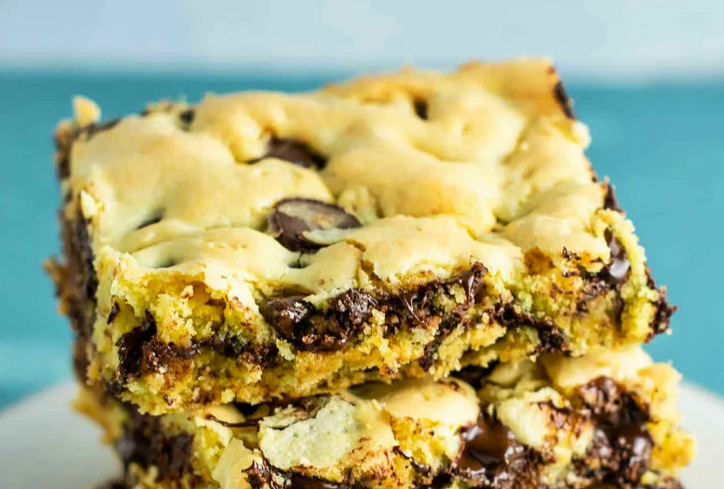 seriously…how can you resist that gooey chocolate chip cookie bar staring you in the face ?!
The bars stay soft and chewy even after they cool.
Easy 4 ingredient cake mix cookie bars – these are always a crowd pleaser!
Ingredients
1 (15 oz) box of yellow cake mix
1/3 cup olive oil (can substitute melted butter or vegetable oil also)
12 oz bag of chocolate chips
Instructions
Preheat oven to 350 degrees
Beat eggs in a small bowl
Add cake mix and olive oil to the beaten eggs and mix well
Beat in chocolate chips (batter will be very thick)
Grease a 9 X 13 baking dish (see notes for thickness)
Spread batter evenly in the dish (this will take several minutes to spread evenly)
Bake at 350 degrees for 20 – 25 minutes, or until toothpick inserted comes out clean
Once cooled, cover or store in an airtight container
Notes
The batter will be thick and hard to spread (this is normal) I found that using a rubber spatula and a spoon made it easier to spread into the pan. It may take a couple minutes, but it's so worth it!
The thickness of the cookie bars will depend on how large of a baking dish you use.