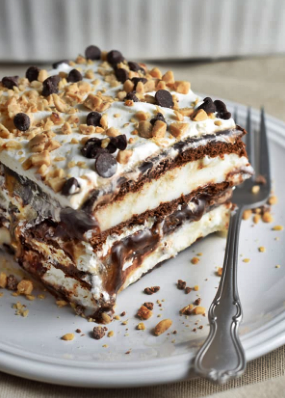 This Ice Cream Bar Cake is layered with ice cream sandwich bars, hot fudge, caramel, whipped topping, and toffee pieces. Super easy to make, but looks like you labored all day over it!Enjoy
Prep Time:20 minutes
Chilling:1 hour
Total Time:1 hour 20 minutes
Servings: 15 Calories: 457kcal
Ingredients:
20 ice cream sandwiches (you may need more if they're the square kind)

1/2 cup mini chocolate chips
Method:
Microwave the fudge and caramel topping for about 25 seconds to loosen it and make it spreadable, if necessary.

Line the bottom of a 9×13 baking dish with a layer of the ice cream bars (10 of them; trim if necessary.)

Spread half of the hot fudge, followed by the caramel, and then Cool Whip over the sandwiches. Sprinkle on half of the chocolate chips and toffee pieces. Repeat layers.

Freeze until firm, about 1 hour. Cut into squares and serve.
Notes:
You can make this up to 3 days ahead of time and frozen, tightly covered. Let thaw for about 5-10 minutes before slicing.