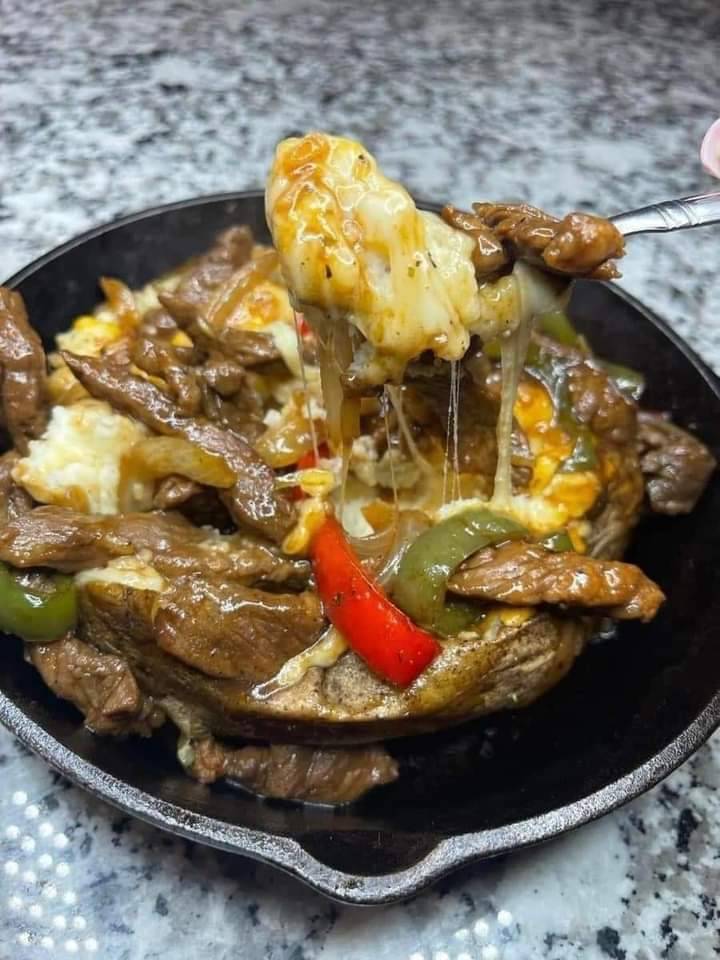 For the sauce:

1/4 cup honey

 2 tablespoons brown sugar

 1/2 cup red wine vinegar

 1/2 cup soy sauce

 1 tablespoons sesame oil


2 tablespoons freshly ground black pepper
For the steak:
 1 ½ pounds flank steak trimmed (see note 1)

 Salt to taste

 3 tablespoons vegetable oil divided

 2 bell peppers any color, stemmed, seeded, and thinly sliced

 1 onion halved and thinly sliced

 3 cloves garlic minced

 1 tablespoon fresh ginger minced

 2 teaspoon cornstarch
For The Mashed potatoes :
4 pounds Russet Potatoes about 8 medium

Salt

 1/2 cup butter melted (1 stick)

 1/2 cup sour cream

 6 ounces cream cheese softened

 2 garlic cloves minced

 8 ounces white cheddar cheese grated, divided (about 2 ½ cups)

 3 ounces Parmesan cheese grated or shredded (about ½ cup)

 Kosher salt

 1/4 teaspoon pepper

 fresh minced parsley or chives for garnish if desired

Directions:
To make the sauce:
In a medium bowl, whisk together honey, brown sugar, red wine vinegar, soy sauce, sesame oil, and black pepper to taste (I like 2 tablespoons; use less if you don't love black pepper).
Measure out ¼ cup of this sauce and pour it into a large zipper-top plastic bag or glass bowl for marinating the meat. Reserve the remaining sauce for the stir-fry.
To make the steak:
Freeze steak for 15 to 20 minutes, just until the outside is chilled but the steak is not frozen solid. This will make it easier to slice the steak thinly.
Remove the steak from the freezer and slice thinly against the grain. Add the steak to the large plastic bag or bowl with the marinade and marinate at room temperature at least 10 minutes or up to 1 hour.
Remove the steak from the plastic bag, discarding the marinade, and pat dry with paper towels. In a large skillet over medium-high heat, heat 1 tablesp