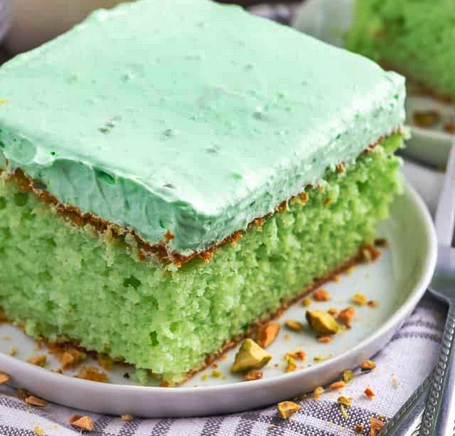 This easy Pistachio Cake recipe starts with a boxed cake mix and it is transformed into a super yummy cake that tastes homemade!
Ingredients
For the cake:

1 box vanilla cake mix, (or white/yellow cake mix)

1 (3.4 oz) box instant pistachio pudding

3 eggs

1 cup oil

1 cup milk

green food coloring optional
For the frosting:
1 (3.4 oz) box instant pistachio pudding

½ cup milk

1 (8 oz) tub frozen whipped topping (COOL WHIP), thawed
Preheat oven to 350F degrees. Spray a 9″x 13″ baking dish with nonstick spray.
In a medium bowl, combine dry cake mix with dry instant pistachio pudding. Mix those together until combined.
Then add in eggs, oil and milk. Stir just until combined.
Stir in about 6 to 8 drops of green food coloring until fully incorporated.
Pour into prepared baking dish.
Bake for about 25-30 minutes. If you insert a toothpick into it, it should come out clean when done.
Allow cake to cool completely before making frosting.
Pour instant pistachio pudding mix into a mixing bowl. Add in ½ cup cold milk. Stir until combined.
Stir in the thawed whipped topping.
Put in a few drops of green food coloring to really bring out that green color. About 5 drops or so.
Spread frosting onto cooled cake.
Slice and serve. If you like, sprinkle with some crushed pistachios.