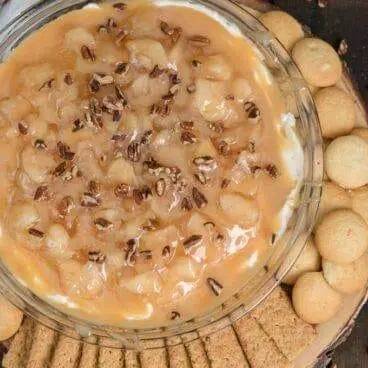 No Bake Caramel Apple Pie Cheesecake Dip is a yummy dessert for any occasion. Made with a sweet cream cheese base and apple pie topping.
Ingredients:Caramel Apple Pie Cheesecake Dip
8 ounce block cream cheese softened
2 tablespoons salted butter softened
1 cup heavy whipping cream
1/2 cup powdered sugar
1/2 teaspoon vanilla
½ teaspoon cinnamon
1/4 cup Caramel sauce
20 ounce can apple pie filling
1/4 cup chopped pecans optional
Graham crackers or vanilla wafers for dipping
Instructions:
Open the apple pie filling and use kitchen shears to roughly cut the apples into large chunks. (If they are already chunks you can skip this step).
Beat butter and cream cheese in a medium mixing bowl until fluffy. Beat in heavy cream, powdered sugar, vanilla and cinnamon until light and fluffy.
Pour into a shallow dish, like a pie plate. Drizzle caramel sauce over the cheesecake mixture then spread the apple pie filling on top. Drizzle with more caramel sauce, then sprinkle chopped pecans on top.
Keep refrigerated until ready to serve. Serve chilled with graham crackers, vanilla wafer or even baked pie crusts pieces!