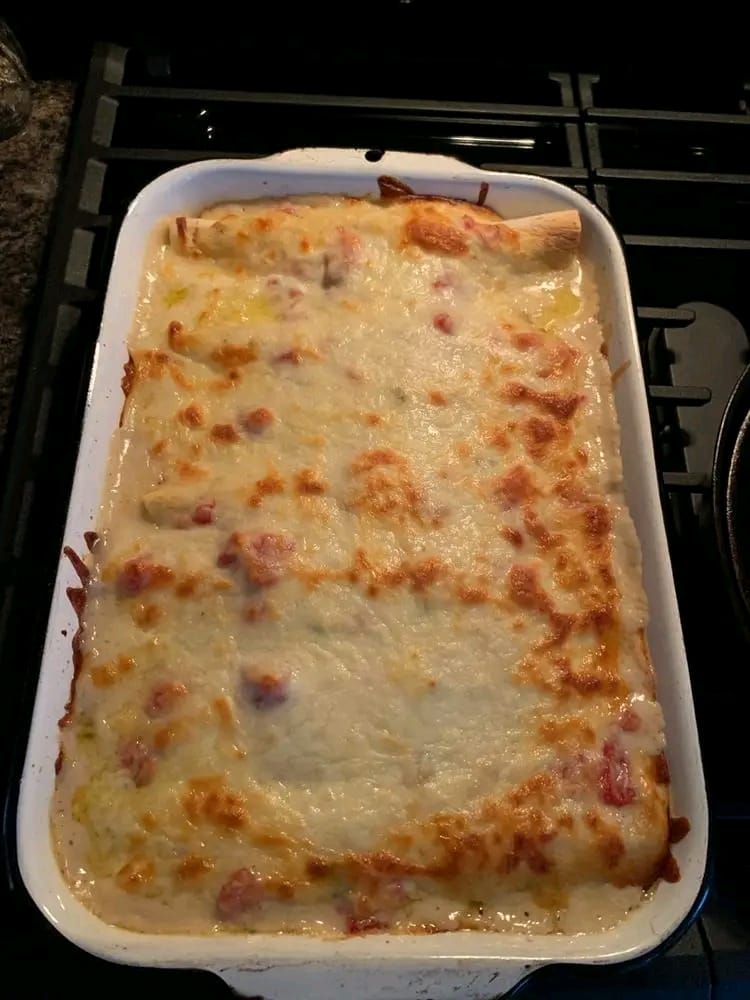 INGREDIENTS:WHITE CHICKEN ENCHILADAS 
10 flour taco shells
2–3 cups cooked, shredded chicken *see notes*
2 1/2 cups shredded Monterey Jack cheese
3 Tbsp butter
3 Tbsp flour
2 cups chicken broth
1 cup sour cream
1 can (4oz) diced green chilies
INSTRUCTIONS:
Preheat oven to 350 degrees. Grease a 9×14 pan.
Mix shredded chicken and 1 cup of cheese in a bowl. Roll up the chicken into the 10 tortillas and place seam down in the prepared pan.
In a medium saucepan, melt the butter over medium-high heat. Stir in the flour and stir while cooking for 2 minutes.
Add in the broth and whisk until smooth. Heat over medium heat until thick and bubbly. This will take about 15 minutes.
Turn off the heat on the saucepan and stir in the sour cream and green chilies. Stir well and remove from heat so your sour cream won't curdle. When it is mixed well, pour your sauce over the enchiladas in the pan.
Top with the remaining 1 1/2 cup cheese.
Bake for 22 minutes and then broil on high for 3 minutes at the end to get the cheese bubbly.
Enjoy!