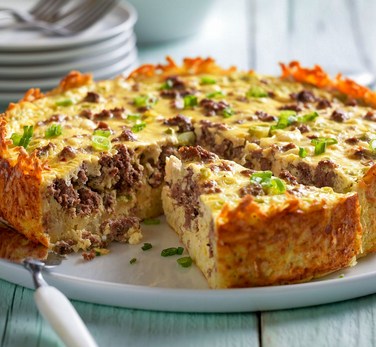 Ingredients:
Basic Country Beef Breakfast Sausage
1 recipe Basic Country Beef Breakfast Sausage
1 pound frozen hash brown potatoes, thawed
8 eggs
1 teaspoon salt, divided
1/2 teaspoon pepper, divided
1-1/2 cups reduced-fat dairy sour cream
1/2 cup 2% reduced-fat milk
4 ounces crumbled goat cheese
1/2 cup thinly sliced green onions
Cooking:
Preheat oven to 425°F. Spray 9-inch springform pan with cooking spray. Squeeze excess moisture from potatoes. Combine potatoes, 1 egg, 1/2 teaspoon salt and 1/4 teaspoon pepper in medium bowl, tossing gently to coat. Press potato mixture onto bottom and up side of prepared pan. Do not place springform pan on baking sheet. Bake in 425°F oven 20 to 30 minutes until potatoes are crispy and brown. Reduce oven temperature to 375°F
Meanwhile, prepare Basic Country Beef Breakfast Sausage. Set aside.
Basic Country Beef Breakfast Sausage: Combine 1 pound ground beef (93% or leaner, 2 teaspoons chopped fresh sage (or 1/2 teaspoon rubbed sage), 1 teaspoon garlic powder, 1 teaspoon onion powder, 1/2 teaspoon salt and 1/4 to 1/2 teaspoon crushed red pepper in large bowl, mixing lightly, but thoroughly. Heat large nonstick skillet over medium heat until hot. Add beef mixture; cook 8 to 10 minutes, breaking into 1/2-inch crumbles and stirring occasionally.
Whisk together remaining 7 eggs, remaining 1/2 teaspoon salt, 1/4 teaspoon remaining pepper, sour cream and milk in large bowl. Stir in cheese, green onions and sausage; pour mixture into hash-brown crust. Bake in 375°F oven 40 to 50 minutes or until eggs are set. Cool 10 to 15 minutes. Remove from pan; cut into wedges.