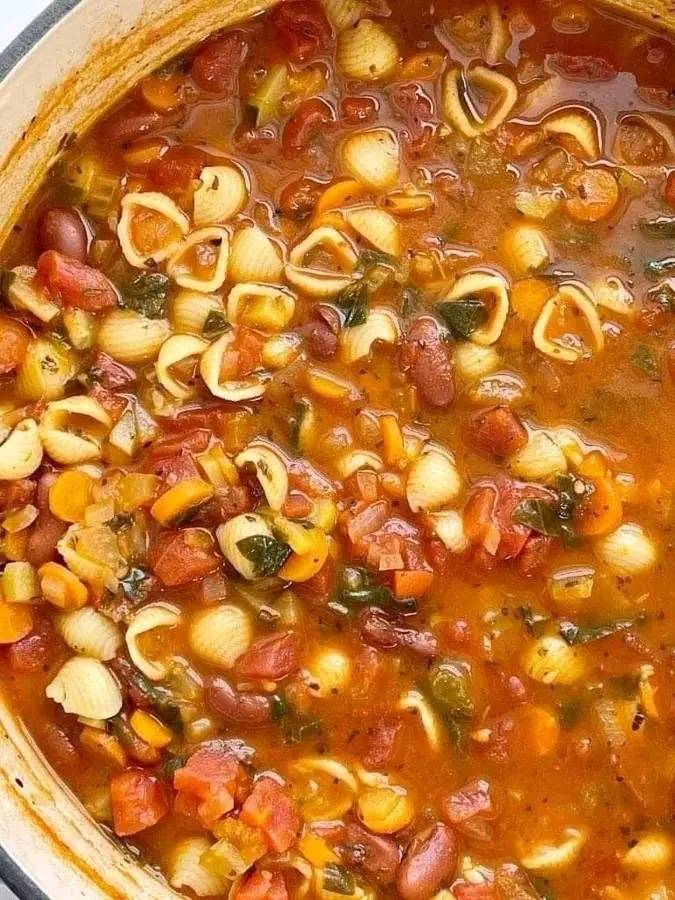 This really is the best Minestrone Soup! A hearty soup with a vegetable broth tomato base and then loaded with fresh vegetables, beans, and tender small shell pasta. It simmers in one pot on the stove top for a delicious and healthy dinner.
Ingredients:

1 tablespoon butter

2 tablespoons olive oil

1 white onion finely chopped

1 cup sliced carrots

1 cup sliced celery

1 cup peeled & chopped zucchini about 1 zucchini

½ teaspoon salt

1 can (28 oz) petite diced tomatoes undrained

1 can (15 oz) kidney beans drained & rinsed

1 can (15 oz) tomato sauce

3 cans (14.75 oz each) vegetable broth

1 tablespoon dried basil

2 teaspoons dried parsley

1 teaspoon oregano

1 teaspoon salt

½ teaspoon pepper

1 cup chopped spinach leaves about 2 small handfuls

1 ½ cups small shell pasta

Instructions:
Melt butter and olive oil in a large stock pot over medium-high heat. Add the onion, carrots, celery, zucchini, and ½ teaspoon salt. Let cook for 8-10 minutes until tender, stirring occasionally.
Add the diced tomatoes, beans, tomato sauce, vegetable broth, basil, parsley, oregano, salt and pepper. Stir together and let come to a low boil. Once boiling, turn down the heat to low and let simmer for 15 minutes.
Turn heat back up to medium and add the chopped spinach and dry pasta. Let cook until pasta is done, about 10 minutes.
* Stir the soup frequently to make sure the pasta is not sticking to the bottom of the pan
Serve with a sprinkle of freshly grated parmesan cheese on top.
Leftovers will keep in a covered contaner in the fridge for 3-4 days. You will probably want to add additional water when reheating leftovers.