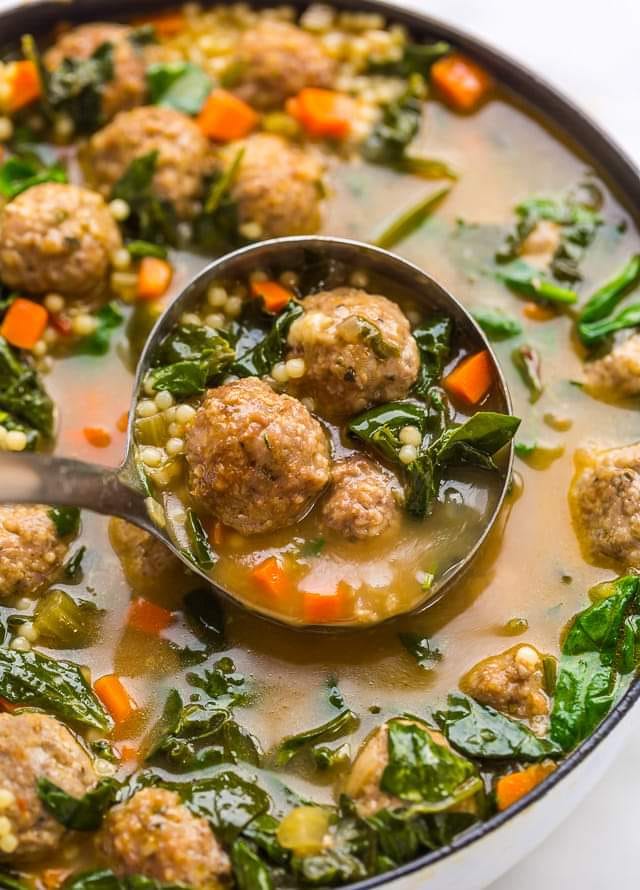 This Italian Wedding Soup Recipe is simply the best! Made with acini de pepe, beef and pork meatballs, carrots, celery, greens, and Parmesan cheese. This soup is SO flavorful! Serve with crusty bread and a glass of wine and enjoy!
Ingredients:
For the Meatballs:
8 ounces ground sausage, casings removed
8 ounces ground beef
1/2 cup breadcrumbs
1 large egg
1 teaspoon Italian Seasoning
1/2 teaspoon garlic powder
1/2 teaspoon salt
1/2 teaspoon black pepper
1/4 cup grated Parmesan cheese
3 Tablespoons lukewarm water
For the Italian Wedding Soup:
1/4 teaspoon crushed red pepper flakes
2 and 1/2 Tablespoons olive oil
1 large yellow onion, diced
4 large carrots, peeled and chopped
2 stalks celery, finely chopped
8 cloves garlic, minced
8 cups chicken broth
4 cups beef broth
2/3 cup acini di pepe pasta
4 cups fresh spinach, roughly chopped
1 teaspoon salt, more to taste
1/2 teaspoon black pepper, more to taste
2/3 cup Parmesan cheese
3 Tablespoons freshly-squeezed lemon juice
Instructions:
For the Meatballs:
Preheat oven to 400 degrees (F). Line a large baking sheet with parchment paper and set aside.
In a large bowl combine ground sausage, ground beef, breadcrumbs, eggs, Italian seasoning, garlic powder, salt, pepper, and Parmesan cheese. Slowly add the water, a few tablespoons at a time, mixing with your hands until everything is just combined. Don't over mix here or it'll make the meatballs tough. The mixture should be very moist but still hold its shape when rolled into meatballs.
Using a small spoon, scoop about two teaspoons of meat into your palms, and roll it into a ball. Place the ball on the prepared baking sheet. Repeat with all of the meat. You should have about 40 mini meatballs.
Place the baking sheet in the oven to bake for 10 minutes. Remove from the oven and set aside until needed.
While the meatballs bake, make your soup!
For the Italian Wedding Soup:
In a large soup pot, over medium heat, add the crushed red pepper flakes, olive oil, onion, carrots, and celery. Cook for 5 to 6 minutes, stirring occasionally, or until tender. Add in the garlic and cook for another minute, or until fragrant.
Add in the chicken broth and beef broth. Increase to medium-high heat and bring to a boil.
Reduce heat to a simmer and cook for 30 minutes. Add in the pasta and cook until it's tender, about 6 minutes.
Stir in the meatballs and spinach. Cook until the spinach has slightly wilted. Finally, stir in the salt, pepper, lemon juice, and Parmesan cheese.
Serve warm, with crusty bread and extra cheese! Or cool completely and store in the fridge, for up to 3 days, or the freezer, for up to 2 months.