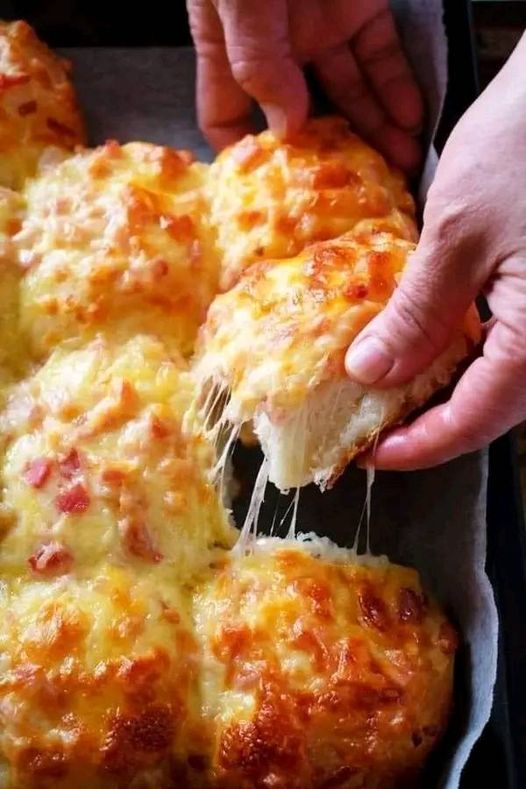 Ingredients:
Dough:

70 gm butter, softened at room temperature

300 ml full cream milk

3 tsp dried yeast

500 gm bakers flour

1 large egg

1/3 cup white sugar (you can reduce the amount of sugar to suit your taste or add up to 1/2 cup in total to make it sweeter)

1 tsp salt

2 tbsp milk powder

2 tbsp oil

Egg Wash:

Topping:

200 gm chopped bacon or to your preference

220 gm grated mozzarella cheese or to your preference

Instructions:
Cut the butter into cubes and leave it to soften at room temperature. Warm the milk in the microwave for 50 seconds. Mix the milk with a spoon then stir in the dry yeast. Set aside for the yeast to foam.
In an electric mixer with the dough hook attachment, add the flour, sugar, salt and milk powder. Combine well. Add the milk and 1 egg to the mixer on setting 3 until combined.
Slowly add the cubes of butter to the mixer on setting 3. Once the butter is combined, let the dough mix for 5 minutes on setting 3 or 4. Then let the dough rest for 3 minutes and then continue mixing for another 20 minutes.
After 20 minutes, check the dough's elasticity by pulling on it with your fingers. If the dough stretches roughly 2 cm without tearing then it is ready. If not, then keep mixing until done. Please refer to the picture above for an example.
Once done, line a large mixing bowl with oil. Oil your hands and remove the dough from the mixer. Pat some oil on the outside of the dough to make it easier to handle and then roll it into a ball with your hands. Place the dough into the large mixing bowl and cover it with a tea towel or cling film. Let it proof in a warm place for 1 hour.
After 1 hour, take out the dough and weigh out 50 gm portions.
Oil your hands and shape the dough into balls. Place them on a baking tray lined with baking paper at roughly 1.5 – 2 cm apart.