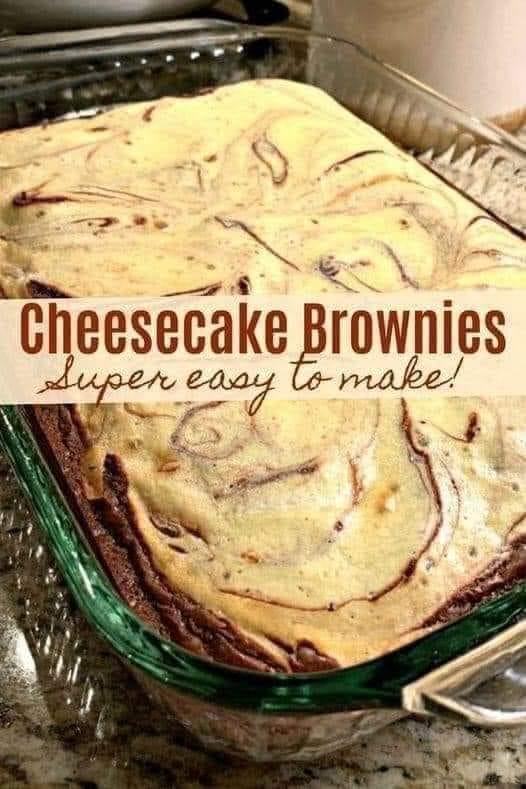 Recipe from Philadelphia (Cream Cheese)
Ingredients:
1 family size box of your favorite brownie mix for a 9×13 baking dish, prepared according to package (avoid
mixes that use chocolate/fudge syrup)
1 (8 ounce package) of cream cheese, softened to room temperature
1 large egg, at room temperature
1/3 cup sugar (granulated sugar)
1/2 teaspoon pure vanilla extract
1/2 cup mini chocolate chips or regular size chips (optional)
Directions
Preheat oven to 350 degrees f and grease a 9×13 baking dish with non-stick cooking spray.
In a large bowl, prepare your boxed brownie mix according to the directions on the box. When ready pour evenly into prepared baking dish.
In a medium size bowl beat cream cheese until smooth and creamy. Next add sugar, egg and vanilla, mixing until well blended. Add chocolate chips (optional) folding into cream cheese mixture.
Drop spoonfuls of cream cheese mixture evenly over brownie batter. Using a knife, gently swirl cream cheese mixture with brownie batter making a marble topping.
Place on middle rack of oven and bake for 35 to 40 minutes, check center of brownies using a toothpick to make sure it's baked through. Do not over bake.
Allow to cool completely, store covered in refrigerator.
Enjoy!
TIPS
Be sure to use your favorite boxed brownie mix and avoid mixes that use fudge/chocolate syrup packs,
Chocolate chips are optional but a great addition for chocolate lovers. You can use more or less than 1/2 cup of chips.
Make sure your egg and cream cheese are at room temperature for the cheesecake topping (helps with smooth/creaminess).
Not a fan of boxed brownie mixes? Use your favorite brownie recipe from scratch.