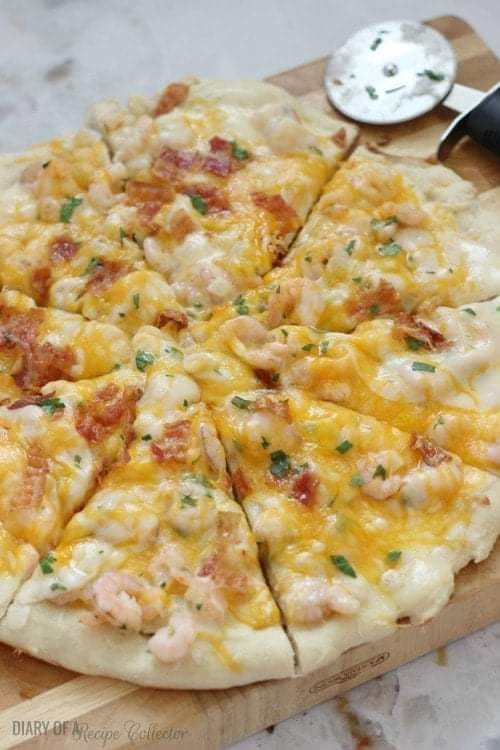 Ingredients:
For Pizza Crust:
3 3/4 cups of flour, plus more for dusting
1 1/2 tbsp sugar
1 1/2 tsp salt
1 packet Fleischmann's Pizza Crust Yeast
1 1/3 really warm water (120 to 125 degrees)
1/3 cup olive oil
For Pizza Topping:
2 tbsp. butter
1 tbsp olive oil
4 cloves garlic, finely chopped
1/4 onion, finely chopped
1 lb. small shrimp, seasoned with 1 tsp creole seasoning
1 tbsp fresh parsley
juice of 1/2 lemon
6 tbsp jar alfredo sauce
1 cup shredded Colby Jack cheese
5-6 provolone slices
3 slices bacon, cooked and chopped
Instructions:
Pizza Dough:
In the bowl of a mixer, combine 2 cups of flour, sugar, salt, and yeast on low speed for about 15 seconds with paddle attachment.
Add oil and warm water.
Mix for 1 minute.
Change to dough hook and add the next 1 cup of flour and mix again. Add the remaining 3/4 cup of flour and mix until mixture begins to form a ball and pull from sides of bowl.
Sprinkle with a little more flour and dust hands with flour as well. Remove dough, pat and flatten. If it is too sticky, add more flour. *If using later, place dough in a bowl and brush it with olive oil to coat it. Cover until ready to use. *Note: This makes enough for 2 pizzas. Refrigerate or freeze half of the dough for later use.
Preheat oven to 450 degrees.
Spread dough onto pizza pan flattening and stretching it out to edges. Partially bake crust for 7 minutes before adding topping.
Pizza Topping:
Melt butter and 1 tbsp. olive oil in a skillet over medium heat. Add garlic and onion and saute for about 5 minutes.
Stir in shrimp and cook for about 3-4 more minutes.
Turn off heat and stir in lemon juice and parsley.
Spread alfredo sauce onto partially baked crust. Top with shrimp mixture. Top with provolone slices, shredded cheese, and bacon.
Bake for 7-10 more minutes. Let cool slightly before cutting.