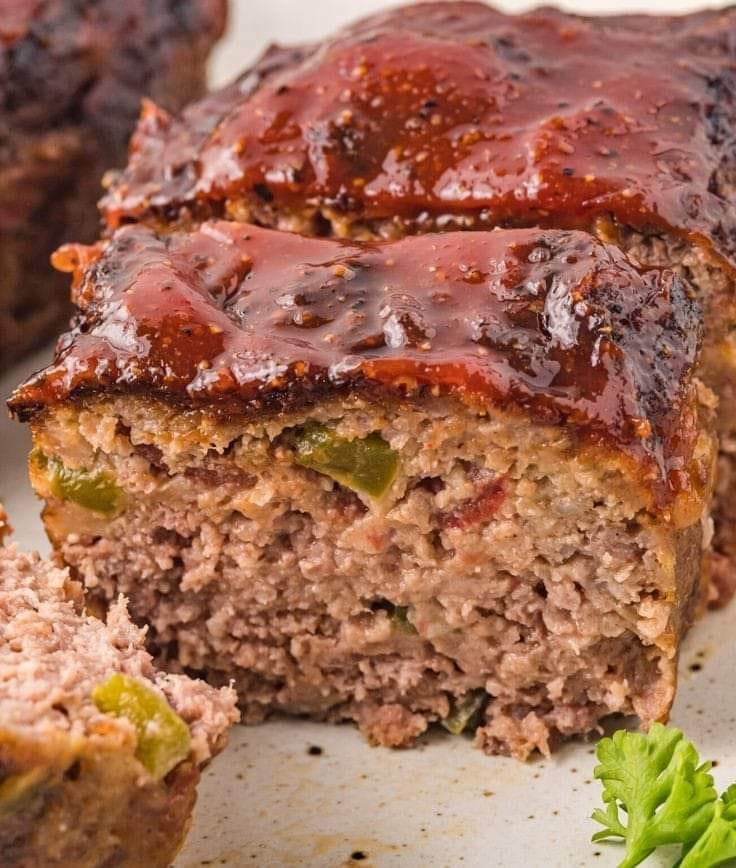 Ingredient's:
1 1/2 pounds lean ground beef
1 large onion, chopped
1 green bell pepper, chopped small
1/2 cup of whole milk
1/2 cup mushrooms chopped (optional) family loves them I hate them
1 tablespoon olive oil
1 cup bread crumbs (regular, italian style or panko)
1 large egg
1/2 tsp salt & 1 tsp pepper
1 tsp garlic powder
1 tsp onion powder
1/2 tsp Adobo seasoning
3 tablespoons Worcestershire sauce
8 slices of mozzarella OR provolone cheese (i used mozz) (Thick CUT)
Instructions:
Preheat the oven to 350F. In a medium skillet sauté the diced onion & peppers in oil until tender & soft.
Once peppers and onions are cooked, you then mix them in with the rest of the ingredients, including meat & milk – (except sliced cheese) in a large mixing bowl.
Work mixture with your hands until fully incorporated. Lightly spray a loaf pan with pam spray or butter or even olive oil, then take exactly. HALF of the mixture & place into the prepared loaf pan Top it with 4 slices of your choice of cheese Place the remaining meat mixture on top of the cheese BUT reserving the last 4 slices, set those aside Bake for 30 minutes Remove from the oven, top with the last 4 slices, sprinkle with parsley then put back into the oven for a remaining 10-15 minutes OR until the cheese is melted to your liking (i like mine a bit crispy) Let stand a few minutes before removing from the pan, then serve.