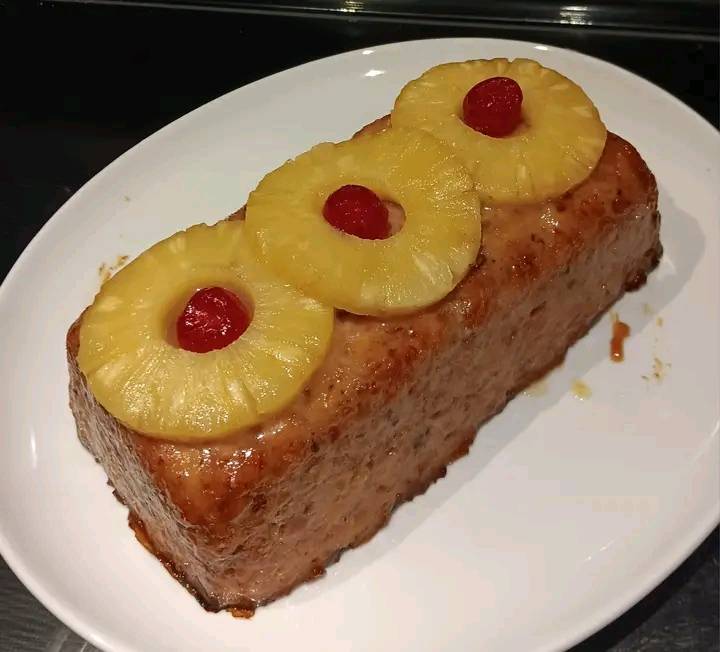 I love old school recipes….I have been wanting to make this 1950's glazed ham loaf for years, but it seemed that I never had all the requisite ingredients at the same time…it was well worth the wait….the family loved it
, and even asked me to make it again…here's how I made it.
INGREDIENTS:
Mince 1/4 c onion.
( or use 1 T dry minced onion ).
Mix with 3 cups ground leftover ham,
1 lb ground pork,
1/2 t dry mustard,
1/8 t pepper,
2/3 c crushed corn flakes ( or cracker crumbs or dry bread crumbs ),
1 egg and
1/2 c milk
METHOD:
..mix with the hands very thoroughly.. shape into a 9×5 " loaf or press into a loaf pan lined with plastic wrap, and unmolded onto a 9×13″ pan lined with parchment or foil.. bake at 350 for 45 minutes. Brush with a glaze made of 1/4 c brown sugar, 1T vinegar and 1T Dijon mustard. Decorate with pineapple and cherry if desired, baste again…..bake 30 minutes longer, basting with glaze once or twice.. let set, covered with foil, for 15 min before serving…