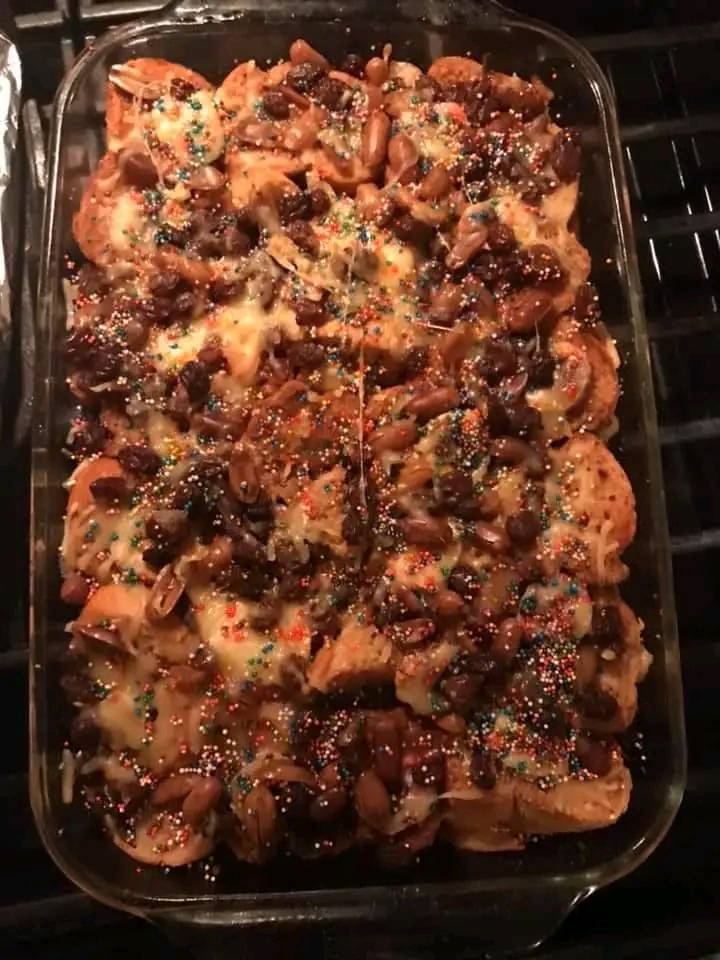 ingredients:

4 bolillos or French bread cut in 3/4 inch pieces (left out the night before to harden)

About 4 cups of water

1 cinnamon stick about 3"

2 pilóncillo cones (3 if you want it really sweet)( unrefined sugar cane )

1 cup Shredded cheese

3 pieces star anise

1 cup roasted peanuts

1 cup raisins

2 bananas cut into round slices

1 teaspoon of vanilla


Sprinkles
method:
Preheat oven to 350
Brush bread pieces lightly with butter or oil and place on baking sheets put in oven for about 5 to seven minutes until golden, turn until golden on both sides. Remove from oven and set aside.
In small sauce pan bring water to boil and add piloncillo cones, star anise and cinnamon stick, stir until piloncillo has dissolved, Add peanuts and raisins and let simmer for about 5 minutes more. Turn off heat. Remove and discard cinnamon stick and star anise.
Grease a 9×12 oven safe glass dish (I used butter to grease it), line dish with a layer of bread, pour liquid with peanuts and raisins over bread, add banana slices and cheese. Repeat process with second layer of bread and finish off with banana slices and cheese and put any remaining liquid over entire dish. Cover with foil and bake for 20 to 30 minutes at 350 or until liquid is absorbed. Remove from oven. Top with sprinkles and let sit to cool for about 20 minutes or so. Enjoy! Refrigerate leftovers and can be eaten cold the next day or reheated.