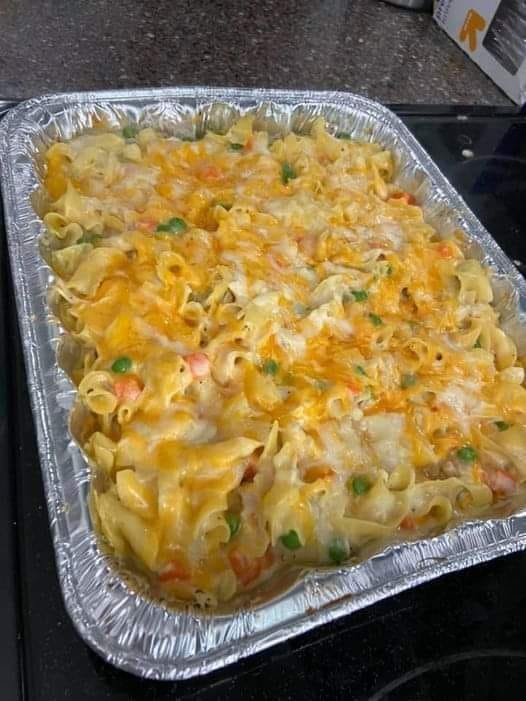 Made this for dinner. No one ever likes my posts. Does this not look good?
Ingredients:
2 cups chicken breast or Rotisserie Chicken
2 cups frozen mixed vegetables, corn, green beans, carrots and peas
4 tbsp butter, unsalted
1 can cream of mushroom soup
1 can cream of chicken soup
1 cup heavy cream
1 cup Parmesan Cheese, freshly shredded
½ tsp salt
¼ tsp ground black pepper
2 tsp garlic powder
16 ounces egg noodles, cooked to package directions, I used medium or wide egg noodles
½ cup Italian seasoned bread crumbs
Instructions:
Preheat the oven to 350*. Melt the butter in a large skillet and toss in the frozen vegetables, saute until the vegetables are heated through.
In a medium sized bowl add the two soups and the heavy cream, whisk to blend. Add the soup mix to the skillet.
Boil the egg noodles according to package directions and drain and rinse once cooked. Add in the Parmesan cheese and the seasonings.
Toss in the shredded chicken and the egg noodles and stir to combine all. Spray a Casserole dish with a non stick spray and carefully place the casserole into the dish.
In a bowl add in ½ cup of Parmesan Cheese, the seasoned bread crumbs and 1 tbsp melted butter, stir to combine. Sprinkle the top of the casserole with half of the bread crumb mixture.
Bake for 20 to 25 minutes, remove and sprinkle the remaining bread crumbs on the top and return to the oven for 5 more minutes. Enjoy!