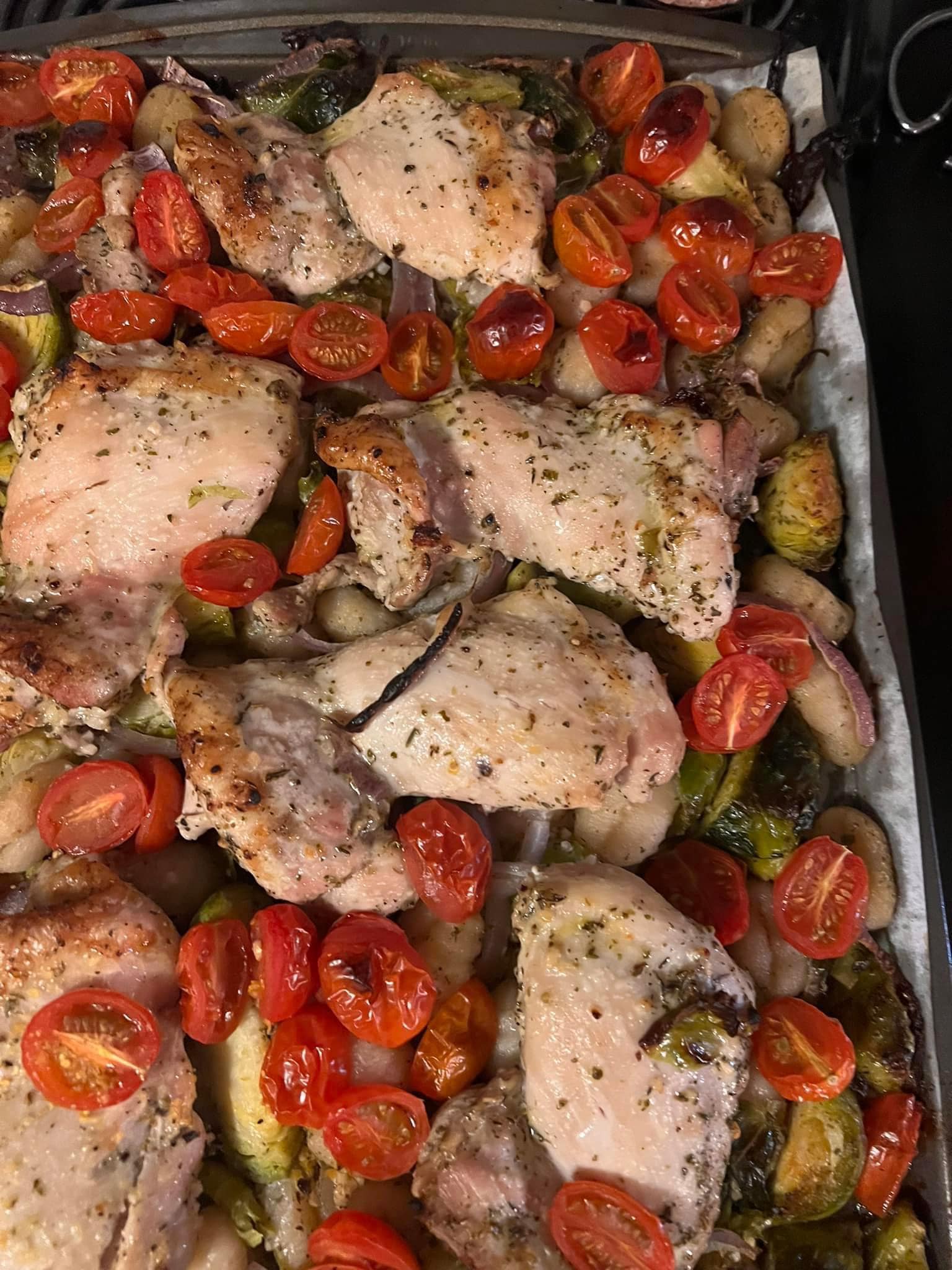 Ingredients:
Sheet Pan Chicken with Brussels Sprouts and Gnocchi

 4 tablespoons extra-virgin olive oil

 2 tablespoons oregano

 2 large cloves minced garlic

 ½ teaspoon ground pepper

 ¼ teaspoon salt

 1 pound Brussels sprouts, trimmed and quartered

 1 (16 ounce) package shelf-stable gnocchi

 1 cup sliced red onion

 4 boneless, skinless chicken thighs, trimmed

 1 cup halved cherry tomatoes

Directions:
 Preheat oven to 450 degrees F.
 Stir 2 tablespoons oil, 1 tablespoon oregano, half the garlic, 1/4 teaspoon pepper and 1/8 teaspoon salt together in a large bowl. Add Brussels sprouts, gnocchi and onion; toss to coat. Spread on a large rimmed baking sheet.
 Stir 1 tablespoon oil, the remaining 1 tablespoon oregano, the remaining garlic and the remaining 1/4 teaspoon pepper and 1/8 teaspoon salt in the large bowl. Add chicken and toss to coat. Nestle the chicken into the vegetable mixture. Roast for 10 minutes.
 Remove from the oven and add the tomatoes; stir to combine. Continue roasting until the Brussels sprouts are tender and the chicken is just cooked through, about 10 minutes more. Stir vinegar and the remaining 1 tablespoon oil into the vegetable mixture.