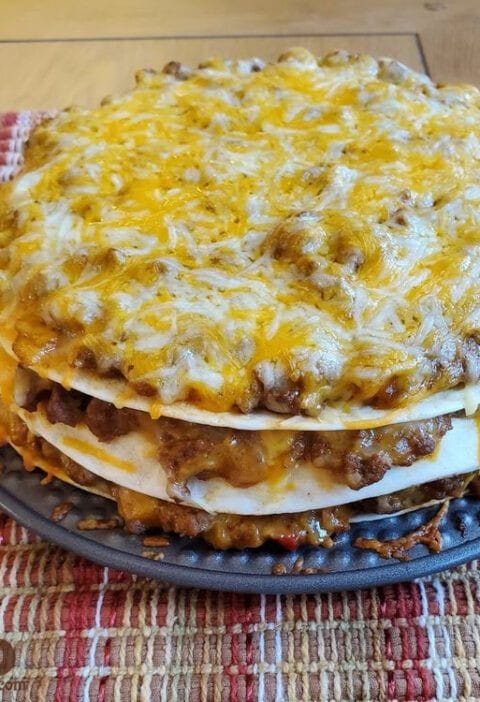 Ingredients:
1 lb ground beef
1 packet taco seasoning
3 (8-inch) flour tortillas
1 1/2 cups Mexican cheese blend
1/2 cup salsa con queso
Water as called for in taco seasoning packet
PREPARATION:
Preheat oven to 375°F.
Brown ground beef in a large skillet over medium heat. Drain off any excess fat.
Add taco seasoning and water as called for on the seasoning packet. Simmer for 5 minutes.
Place one tortilla in the bottom of an 8×8 inch baking dish. Spread 1/3 of the beef mixture on top of the tortilla. Sprinkle 1/3 of the cheese on top of the beef mixture.
Repeat layers with remaining tortillas, beef mixture, and cheese, ending with cheese on top.
Spoon salsa con queso over the top layer of cheese.
Bake in preheated oven for 20-25 minutes, or until cheese is melted and bubbly.
Let cool for a few minutes before slicing and serving. Enjoy!