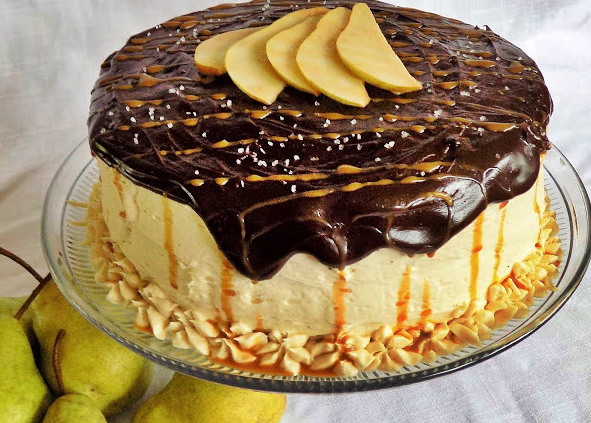 What to make this week? make something with chocolate and caramel, and two pear trees that are groaning under the weight of fruit they're bearing. We won't say how many different caramel sauce recipes we tried before finding one that worked !
time: 2 hours
Ingredients:
1 cup butter, melted and cooled
Pear Compote:
3 pears, peeled, cored, and diced
Salted Caramel Sauce:
Salted Caramel Buttercream:
Chocolate Ganache:
Instructions:
Chocolate cake:
Preheat oven to 350 degrees.

Grease two 9″ cake pans and line with parchment paper.

Melt the oil, butter, and chocolate together in the microwave, heating in 30 second increments and stirring until smooth. Set aside to cool.

In medium bowl, whisk flour, cocoa, baking soda, baking powder, and salt. Set aside.

In bowl of stand mixer, mix eggs, sugar, and vanilla.

Add cooled chocolate mixture and mix.

Alternate adding the flour and yogurt, continuing to mix until just combined.

Stir in coffee just until incorporated.

Divide batter between pans and bake for 40 minutes. Remove to wire racks to cool completely.
Pear compote:
Combine all compote ingredients in a medium saucepan.

Heat over medium heat until sauce begins to thicken, 3-5 minutes. Set aside to cool.
Salted caramel sauce:
In medium, microwave-safe bowl, combine melted butter, brown sugar, and heavy cream, whisking until smooth.

Heat in microwave on high for 2 minutes. Remove and stir.

Heat on high for 2 more minutes until bubbly and slightly thickened. Stir.

Heat for an additional 30 seconds to one minute if needed.

Stir in salt and vanilla and let cool – mixture will thicken as it cools.
Salted caramel frosting:
In the bowl of your stand mixer, cream your butter and caramel sauce.

Add sugar one cup at at time. Adjust from 3-4 cups depending on preference.

Add salt and beat until light and fluffy.
Chocolate ganache:
In medium microwave-safe bowl, microwave cream and chocolate chips in 30-second increments, stirring in between.

Repeat until smooth. Set aside to cool.
Assembly:
Place one cake layer on cake stand.

Pipe frosting around top edge of cake.

Top with second cake layer.

Frost with caramel frosting.

Garnish with fresh pear, caramel sauce, and/or large granular sea salt if desired.
Serve! Refrigerate leftovers.