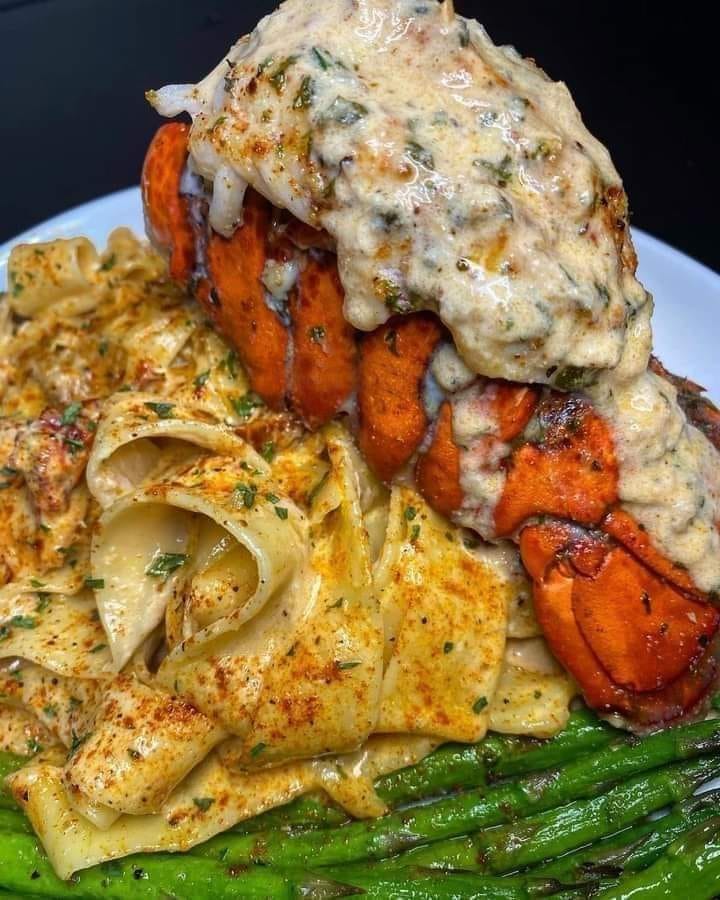 Ingredients
2 salmon fillet
4 lobsters tails
1 cup of carb meat in the can (Blue grab, claws)
32 oz Heavy whipping cream
4 oz cream cheese
1 1/2 cups of chicken broth
Pappardelle Egg Pasta
Seasoning for the salmon
1/2 tsp of old bay
1/2 tsp of Sazon tropical (green top)
1/2 tsp of garlic powder
1/2 tsp of onion powder
1/2 tsp of brass cuisine experience
1/2 tsp of brass cuisine garlic pepper
1/2 tsp of paprika
1/2 of butter
1 tsp of olive oil.
Seasoning for the sauce
2 tsp of butter
1 1/2 Tbsp of minced garlic
1/3 cups of sun dried tomatoes
Heavy whipping cream
4 oz cream cheese
1 1/2 cups of chicken broth
2 tsp of Florida crab boil
3 tsp of slap yo momma
1 1/2 tsp of garlic powder
1 1/2 tsp of onion powder
2 tsp of paprika
2 tsp of Garlic pepper (Brass cuisine)
1 cup of shaved Parmesan cheese
Salt and pepper to taste.
Lobster
1 tsp of slap yo momma
1 tsp of garlic powder
1 tsp of paprika
2 Tbsp of butter
1 tbsp of parley butter
1 1/2 tbsp of minced garlic
1 tsp of garlic powder
A dash of salt
1 tbsp of choppped parsley
1/2 of lemon (squeezed)
Directions
First, clean your meat and pat dry. Add a large pot of water on high heat. Let that come to a boil then add your pasta. Cook for about 8 minutes. Drain and place to the side.
Next,season your salmon. Place a large skillet on medium heat.
Add your olive oil and butter.
Once your butter is melted all the way down, add your salmon.
Cook for about 3 minutes on each side or until golden brown.
Squeeze some lemon juice on top , and place to the side. Time to make your sauce.
On medium heat, add your butter to the pan.
Once melted, add your minced garlic.
Mix well,then add you sun dried tomatoes and crab boil seasoning.
Give it a nice whisk. Slowly add you heavy whipping cream, while you continue to whisk.
Once that come to a light simmer, add your cream cheese .Slowly stir.
Once your cream cheese is melted all the way down , add your chicken broth and seasoning.
Mix, then add your Parmesan cheese.
Whisk well until cheese melts.
Once it come to a simmer, turn your heat on low.
Next, turn your broil on high.
Season your lobster with slap o momma, garlic powder and paprika.
Place it in the oven for 5 minutes.
While your lobster in the oven, Add your butter,minced garlic,garlic powder, parsley and a dash of salt and lemon juice to a cup.
Put it in the microwave for 30 seconds so the butter can melt.
Once the 5 minutes is up, take your lobster out and drizzle your garlic butter on top and place it back in the oven for another 5 minute.
Then take it out .
Last. chop up your salmon.
Add your pasta, crab meat and to the sauce and mix well.
Add your salmon : give it a nice tossed.
Plate your pasta and lobster tail.
Drizzle some of your sauce on top of the lobster and there you have it.
Enjoy!!