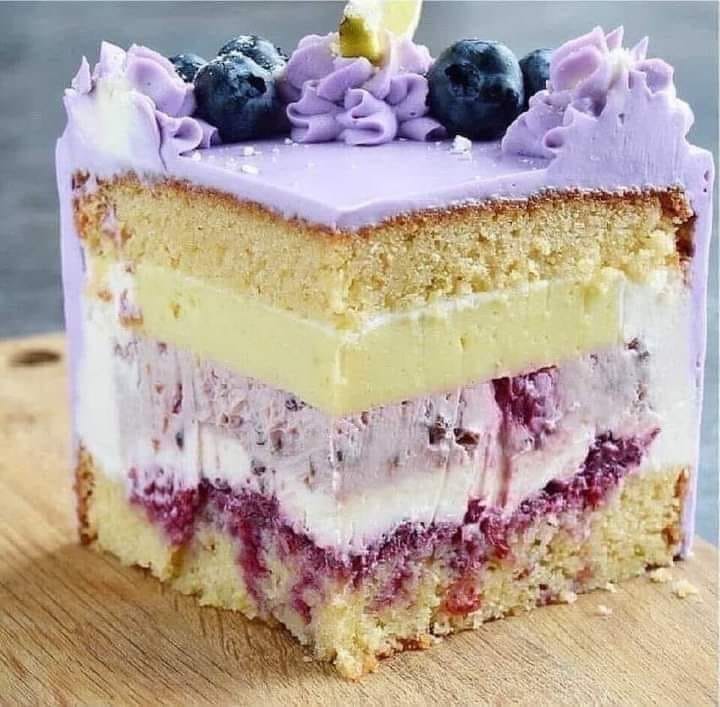 Ingredients:
¾ cup blueberries, fresh
16 oz. room temperature cream cheese
1/2 cup sugar (granulated)
2 tblsp flour (all-purpose)
1/2 tablespoons vanilla extract
2 room temperature eggs + 1 yolk
a quarter cup of sour cream
1 quart thick cream
Lemon Blueberry Cake:
2 cups flour (all-purpose)
¼ teaspoon salt 2 teaspoons baking powder 2 tablespoons corn starch
2/3 cup unsalted room temperature butter
1 and 1/3 cup sugar, granulated
1 egg white + 2 eggs
½ tablespoons extract de vanille
½ cup milk 2 tablespoons lemon zest
lemon juice (about 3 tbsp.)
½ cup fresh blueberries (if use frozen do not thaw)
Toss the blueberries with 3–4 tablespoons of flour.
Lemon Cream Cheese Frosting:
12 oz. softened full-fat brick type cream cheese
1 cup softened unsalted butter
a quarter teaspoon of salt
½ cup powdered sugar (about 3 ½ –4 ½ cup)
vanilla extract (two tablespoons)
1 tblsp lemon juice
For garnish:
slices of lemon
blueberries in season
Method:
Blueberry Cheesecake:
Preheat the oven to 350 degrees Fahrenheit.
Prepare an 8-inch springform pan by lightly greasing it and lining the bottom with parchment paper.
Wrap a second layer of heavy-duty aluminum foil around the springform pan to keep water out when baking in a water bath.
To create the cheesecake, blend the blueberries and cream cheese in a food processor until smooth, then transfer to a mixing bowl.
Mix in the sugar and flour until the mixture is smooth and creamy.
Blend in the vanilla extract.
Add the eggs one at a time, mixing only to incorporate after each addition; do not overmix.
Finally, whisk together the sour cream and heavy cream.
Fill a springform pan halfway with batter, level the top, and set in a roasting pan.
Pour boiling water halfway up the edge of the springform pan in the roasting pan, making sure there is no water on the batter, and bake for 40-45 minutes, or until the middle has set.
Remove the springform pan from the water bath, run a thin knife along the edge of the cake, and cool to room temperature before placing in the fridge to chill fully.
Lemon Blueberry Cake:
Preheat the oven to 350 degrees Fahrenheit. Butter and gently flour two 8-inch round cake pans, then cover the bottoms with parchment paper circles.
2 cups flour, corn starch, baking powder, and salt sifted together and left aside
Combine the milk and lemon juice in a mixing bowl and leave aside to curdle.
4 minutes on medium-high, beat butter and sugar until pale and fluffy.
Add the eggs one at a time to the mixer on low speed, mixing after each addition.
Mix in the vanilla essence and lemon zest until everything is well combined.
Add 1/3 of the flour mixture first, then half of the milk combination, then another third of the flour mixture, then the remaining milk mixture, and finally the flour mixture.
After each addition, stir to blend but do not overmix.
Toss blueberries with flour in a small basin to coat, then gently fold blueberries into batter, being careful not to break them.
Evenly distribute the batter between the pans, level the tops, and bake for 30-35 minutes, or until a toothpick inserted in the middle comes out clean.
Cool the cakes in the pans for 10 to 15 minutes before transferring to a wire rack to cool completely.
Cream Cheese Frosting:
On medium speed, combine the butter and cream cheese until no lumps remain.
If you overbeat the frosting before adding the sugar, you'll end up with a runny frosting.
Mix in the vanilla, salt, and lemon zest until everything is well blended.
Gradually add powdered sugar until you get the desired sweetness and thickness.
Scrape down the sides of the bowl and continue to beat until the mixture is smooth.
Assembling the Cake:
On a serving dish, place one layer of cake and a thin coating of lemon cream cheese frosting.
Place a layer of blueberry cheesecake on top, then a thin coating of icing.
Finally, place the second cake layer on top of the first and coat the cake with the leftover frosting.
If preferred, garnish with lemon slices and fresh blueberries.
If you don't chill the cake for at least 45 minutes before cutting it, it will break apart as you cut it.
Refrigerate any leftovers.