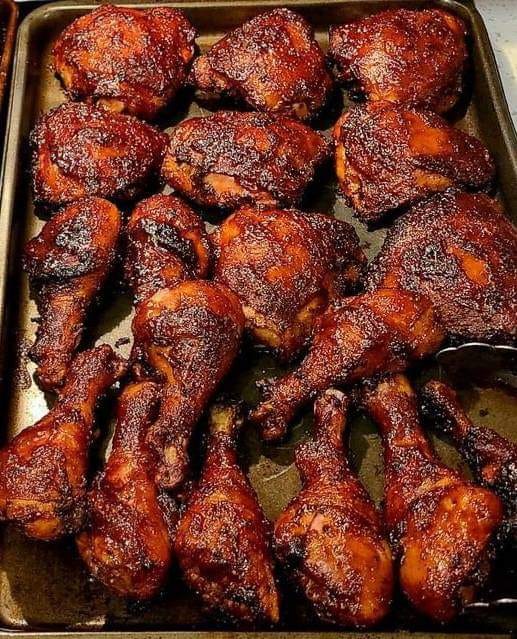 Ingredients:
8 (4 oz each) skin-on chicken drumsticks (about 2 lb. total weight)
2 tablespoons olive oil
1 teaspoon Diamond Crystal kosher salt
½ teaspoon black pepper
1 teaspoon garlic powder
1 teaspoon onion powder
1 teaspoon smoked paprika
1/4 teaspoon cayenne pepper
Instructions
Preheat your oven to 400 degrees F.
Line a rimmed baking sheet with high-heat-resistant parchment paper and arrange the drumsticks in a single layer on the parchment.
Make the seasoning paste: In a medium bowl, use a fork or a spatula to mix the olive oil, salt, pepper, and spices.
Using a pastry brush or your hands, coat the chicken pieces with the seasoning paste.
Bake the drumsticks uncovered until their internal temperature reaches 165 degrees F, about 40 minutes.
Baste the drumsticks with the pan juices using a clean pastry brush.
Serve immediately.
Notes:
Check on the drumsticks after the first 30 minutes.
If they seem to be darkening too fast on top, loosely cover them with foil and keep cooking until they are cooked through.
Chicken should be fully cooked.
It should reach an internal temperature of 165°F when measured with an instant-read thermometer not touching the bone.
Nutrition:
Serving: 2drumsticks | Calories: 288kcal | Carbohydrates: 1g | Protein: 28g | Fat: 18g | Saturated Fat: 4g | Sodium: 709m