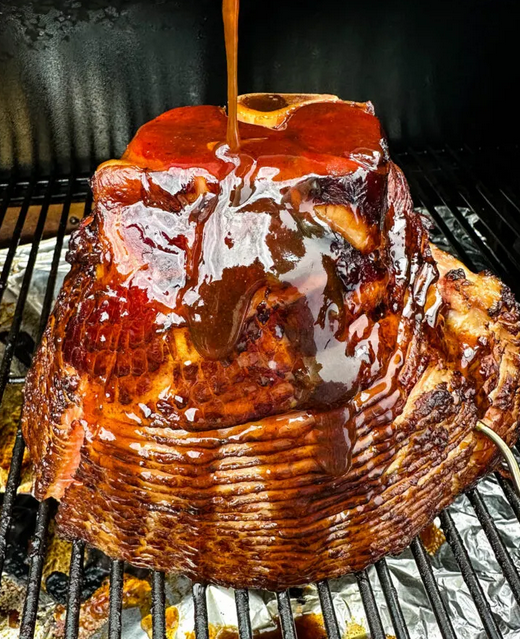 This Traeger Smoked Ham is drizzled in a homemade honey, pineapple, and brown sugar glaze for ultimate flavor. Grab your bone-in or boneless spiral-sliced, cured, and pre-cooked ham. This can be made with any smoker or pellet grill for Thanksgiving, the holidays, or any occasion!
Prep Time10 minutes
Cook Time2 hours 30 minutes
Total Time2 hours 40 minutes
Calories:405kcal
Ingredients
7-8 pounds fully cooked ham I prefer bone-in and spiral cut.
3/4 cup pineapple juice
1/2 cup brown sweetener or sugar Dark or light.
1/4 cup honey
1/2 teaspoon ground cloves
1/2 teaspoon cinnamon
1 tablespoon cornstarch
1 tablespoon water
Instructions
Preheat the smoker to 225 degrees.
Place the ham directly on the smoker, cut-side down.
Smoke for 90 minutes to 2 hours. I typically do 2 hours for ultimate flavor.
Place a saucepan on medium-high heat. Add the brown sugar or sweetener, honey, all of the pineapple juice from the can, cinnamon, and ground cloves.
Stir for 3-4 minutes until the sweetener has melted.
Add the cornstarch and water to a small bowl and stir to combine.
Add the cornstarch slurry mixture to the glaze. Stir as you pour and add it in slowly.
Stir until the glaze thickens.
Adjust the heat on the smoker to 350 degrees.
Glaze the ham with the homemade glaze.
Continue to smoke the ham until it reaches an internal temperature of 145 degrees.
Allow the ham to rest for at least 20 minutes prior to slicing.
If you plan to serve it later, wrap it in foil.
Notes:
You can smoke a ham of any size.
You may have to smoke it longer until it reaches an internal temperature of 165 degrees.
You can use any bone-in or boneless ham.
If the glaze still needs thickening you will repeat the steps of mixing equal parts cornstarch and water and add it to the glaze until it reaches your desired thickness.