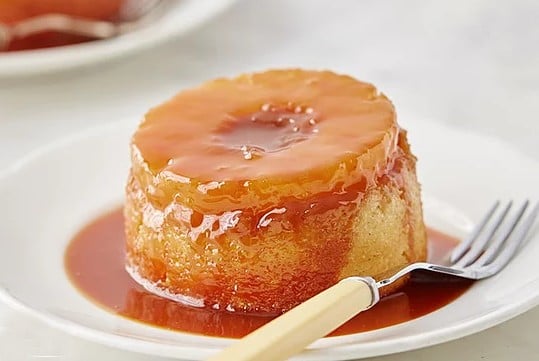 Individual pineapple upside-down cakes sitting in a pool of decadent rum caramel are a guaranteed crowd-pleaser.
Ingredients:
1 teaspoon pure vanilla extract

1 tablespoon cold unsalted butter
1 cup (2 sticks) plus 2 tablespoons unsalted butter, room temperature, plus more for ramekins

1/2 cup packed dark-brown sugar
Six 1/4-inch-thick slices fresh pineapple

1 3/4 cups cake flour (not self-rising)

1 3/4 teaspoons baking powder
Directions:
1:
Make the rum caramel sauce: Combine the sugar and hot water in a heavy saucepan, and cook over high heat until the sugar has dissolved, about 1 minute. Continue to cook, swirling the pan occasionally but never stirring the sugar mixture, until the mixture thickens and turns a deep amber color, 5 to 8 minutes. Remove the pan from the heat and immediately add the heavy cream (be careful — the mixture will splatter). Return the pan to the heat and reduce the heat to medium. Cook until the sauce is thick and creamy, stirring occasionally to help incorporate the cream, about 5 minutes. Remove the pan from the heat and stir in the rum, vanilla, and butter. Serve warm.
2:
Make the cakes: Preheat oven to 350 degrees. Generously butter six 10-ounce (3 1/2-by-2 1/2-inch) ramekins and place on a rimmed baking sheet.
3:
Melt 8 tablespoons butter in a small saucepan. Add brown sugar and a pinch of salt, and cook, stirring, until sugar is melted and sauce is smooth, about 3 minutes. Divide caramel mixture evenly between ramekins. Using a 3 1/2-inch round cutter, trim pineapple slices to fit into the bottom of each ramekin. Use a small round cutter to remove the core from pineapple rounds, and place one round in the bottom of each ramekin.
4:
In the bowl of an electric mixer fitted with the paddle attachment, beat the remaining 10 tablespoons butter, granulated sugar, and vanilla seeds until light and fluffy. Add eggs, 1 at a time, beating well after each addition. Whisk together flour, baking powder, and 1/2 teaspoon salt. Gradually add flour mixture to butter mixture in 3 additions, alternating with milk and starting and ending with flour mixture.
5:
Divide batter between prepared ramekins. Bake until golden and a toothpick inserted into centers comes out clean, 30 to 35 minutes. Let cakes cool 1 minute before inverting onto serving plates. Serve warm with rum sauce.