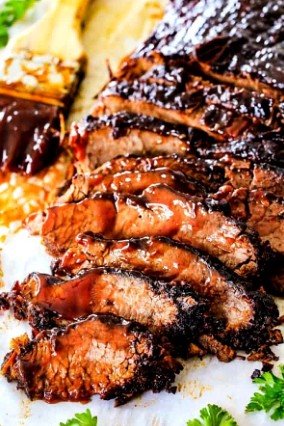 Prep Time:15 minutes
Cook Time:8 hours
Servings:4-10 people
Wonderfully juicy, flavor exploding, melt-in-your-mouth Slow Cooker Beef Brisket is "better than any restaurant" according to my food critic husband! It's the ultimate easy company dinner because it can be made days in advance then reheated in the slow cooker for stress free entertaining, Enjoy
!
INGREDIENTS:
4-5 pounds beef brisket trimmed of excess fat

1 tablespoon beef bouillon

2 tablespoons Worcestershire sauce

1 tablespoon reduced sodium soy sauce

1/2 cup homemade barbecue sauce

2 tablespoons packed brown sugar

1 tablespoon chili powder

2 tsp EACH garlic powder, salt

1 tsp EACH onion powder, chipotle powder, pepper

1/4 teaspoon cayenne pepper optional for more heat

1/3 cup packed brown sugar

1/4 cup seedless blackberry preserves

1/4 cup apple cider vinegar

1 tablespoon reserved Spice Rub from above

1 tablespoon mesquite liquid smoke optional but recommended*
Preheat oven to 425 degrees F. Line a large baking sheet with sides/jelly roll pan with parchment paper or foil for easy clean up. Set aside.

Spray 6 quart (or larger) slow cooker with non-stick cooking spray.

Trim brisket of excess fat and rinse and pat dry. If your brisket is extra long then slice it in half so it will fit in your slow cooker.

In a medium bowl, whisk together Spice Rub ingredients. Remove 1 tablespoon Spice Rub and add to a medium bowl to use in your barbecue sauce. Rub all remaining Spice Rub evenly all over the meat then place brisket on prepared baking sheet. (You can let sit at room temperature for 30 minutes or refrigerate up to 24 hours if desired). Bake uncovered for 30 minutes at 425 degrees F to sear meat.

Meanwhile, add all of the Barbecue Sauce ingredients to the 1 tablespoon reserved Spice Rub and whisk to combine. Remove 1/2 cup barbecue sauce and add to slow cooker along with 1 cup water, 2 tablespoons Worcestershire, 1 tablespoon reduced sodium soy sauce and 1 tablespoon beef bouillon. Whisk to combine (the bouillon will not be completely dissolved but will dissolve during cooking).

Using tongs (so you don't burn yourself) carefully transfer brisket to slow cooker. It will be large so you will have to squish it in. Not all of it will be under the liquid.

Cover and cook on LOW for 8-10 hours until brisket is very tender, flipping over half way through cooking. If your brisket is tough, it just needs to cook longer.

Remove brisket to a foil lined baking sheet. Brush with barbecue sauce and broil 5-10 minutes, until slightly caramelized. Meanwhile, microwave or simmer remaining barbecue sauce until warmed through.

Brush brisket again with barbecue sauce and slice across the grain or chop if desired. Serve with remaining barbecue sauce plain or they make delicious sandwiches. (See side dish suggestions below recipe.)

MAKE AHEAD: I often will cook my brisket until tender then remove the removable ceramic insert and refrigerate the brisket in the juices. The next day, I skip off all the hardened fat then cook on LOW in the slow cooker for 1-2 hours until warmed through and proceed with recipe.