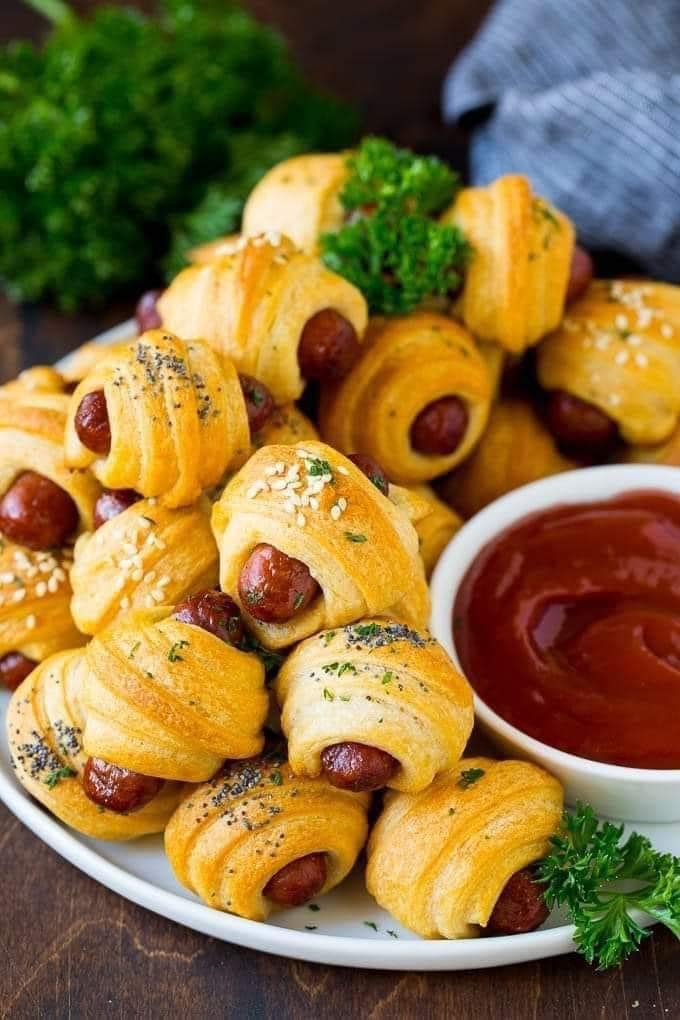 Pigs in a blanket is a classic party snack made with cocktail wieners wrapped in crescent dough, which are baked to golden brown perfection. An easy appetizer option that can be doubled or tripled to serve a crowd.
Prep Time30 minutes
Cook Time15 minutes
Total Time45 minutes
Servings48
Ingredients
2 8 ounce cans crescent rolls
48 cocktail wieners
2 tablespoons butter melted
toppings such as sesame seeds or poppy seeds optional
cooking spray
2 teaspoons chopped parsley optional
Instructions
Preheat the oven to 375 degrees F.
Line two sheet pans with foil and coat with cooking spray.
Unroll the cans of crescent roll dough and separate the dough into 16 triangles.
Cut each dough triangle into thirds, lengthwise.
Place a wiener at the thickest end of the triangle. Start at that end and roll up each wiener.
Repeat with remaining dough and wieners. Place the pigs in a blanket on the baking sheets.
Brush the butter over the tops of the pigs and add any toppings if desired.
Bake each tray for 13-15 minutes or until dough is golden brown. Serve immediately, garnished with chopped parsley if desired.
Notes
You can use any type of miniature sausage for this recipe – I've done it with hot dogs, little smokies and chicken apple sausages, all with great results.
Can't find mini hot dogs? You can also use larger hot dogs that are cut into 4 or 5 pieces.