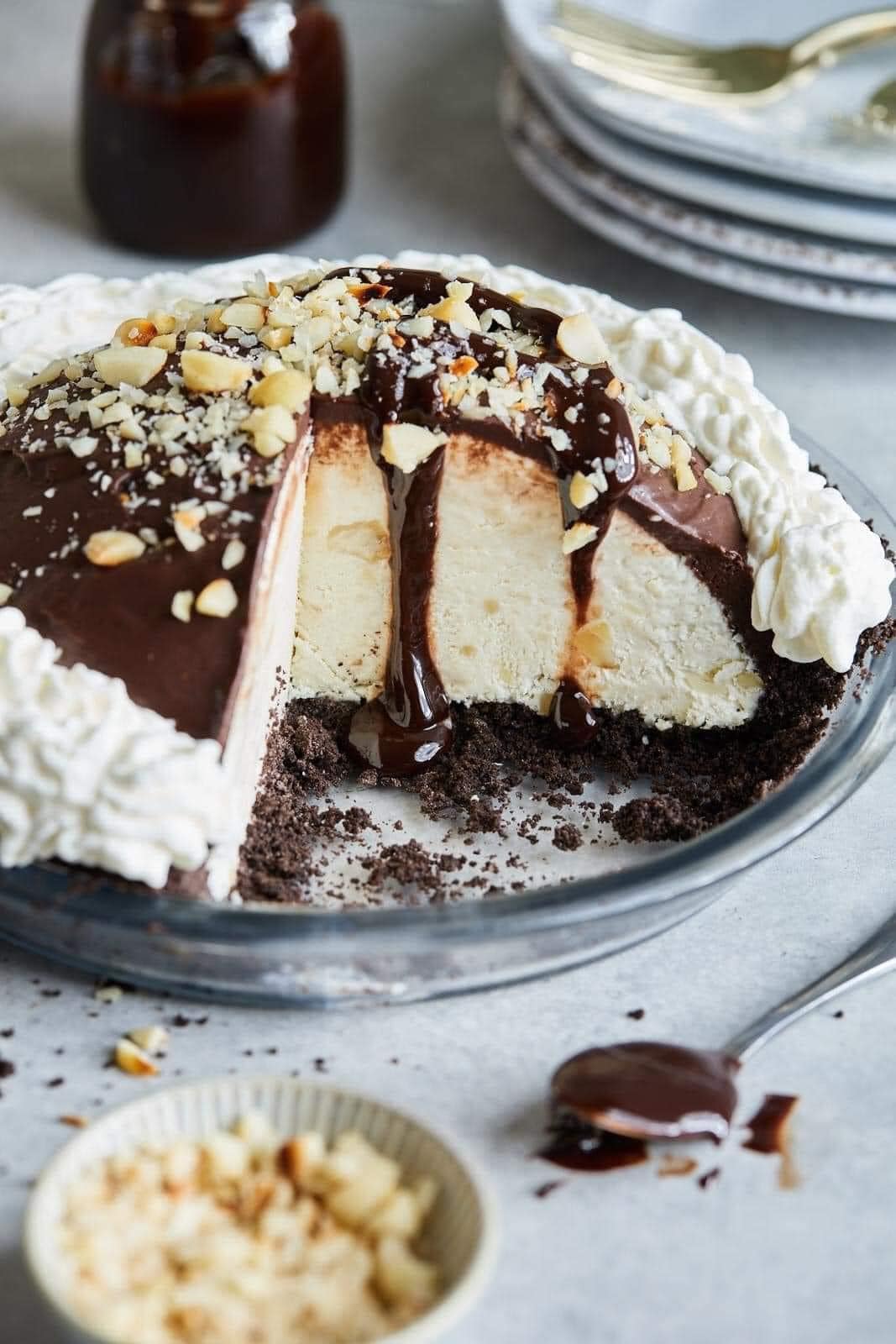 INGREDIENTS-
OREO COOKIE CRUST-
36 Oreo cookies
3 Tbs butter, plus more, if needed
MACADAMIA ICE CREAM-
1½ cups macadamia nuts, unsalted plus extra for garnish
1 cup sweetened condensed milk
2 tsp of vanilla extract or vanilla paste
½ tsp of coconut extract (optional)
2 cups heavy whipping cream
PIE-
2 cups fudge topping
1 cup Whipped cream
macadamia nuts, chopped, for garnish
DIRECTIONS-
CRUST-
Preheat oven to 350°F. Crush Oreos in a food processor into a fine crumble, then add in 3 Tbsp. melted butter and blend until butter is incorporated. Pour the Oreo crumbs into a 9-inch shallow pie plate and press evenly into and up the sides of the pie plate. Bake for 10-12 minutes then allow to cool and then place in the freezer for at least an hour or wrap once cool and keep it overnight until ready to fill.
ICE CREAM-
For the macadamia ice cream use a food processor to chop and grind 1 1/4 cups of the macadamia nuts into a paste. Coarsely chop the rest of the nuts and lightly toast them in a pan. Remove them from the pan once they have turned golden this can happen very quickly so keep a close eye on them and allow to cool them chop. In a large mixing bowl with a stand mixer or hand mixer, whip the heavy cream until stiff peaks form.
Using a rubber spatula gently fold and stir in the condensed milk until no streaks remain. Place the purée in a separate bowl and add in the vanilla and coconut extract if using and mix until incorporated. Then add half a cup of the whipped cream and beat or whisk until the macadamia nut purée is a lighter mixture making it easier to fold into the rest of the cream. Now fold the macadamia nut mixture into the heavy whipping cream just until fully incorporated and no streaks remain.
Fold in the chopped nuts. Set aside while you prepare the bowl. Find a bowl whose rim will easily fit inside the Oreo pie crust, if using a 9" pie crust, find a bowl where the rim is under 9" remember you will be placing the bowl upside down inside the crust). Line the bowl with plastic wrap, spray with cooking spray, and then transfer the ice cream into the bowl.
Cover and freeze for at least 6 hours or overnight. Remove ice cream and Oreo crust from the freezer. Carefully place the bowl upside-down over the crust and pull at the plastic wrap until the ice cream settles onto the crust. Remove the bowl and plastic wrap from the ice cream. Spoon fudge topping over the ice cream and spread it evening over it to fully cover it. Make sure the fudge is at room temperature.
If you must reheat it allow for it to come to room temperature before pouring it over. Freeze again until the fudge becomes firm. remove from freezer and cut into slices. Top each slice with whipped cream, hot extra hot fudge, and chopped macadamia nuts.