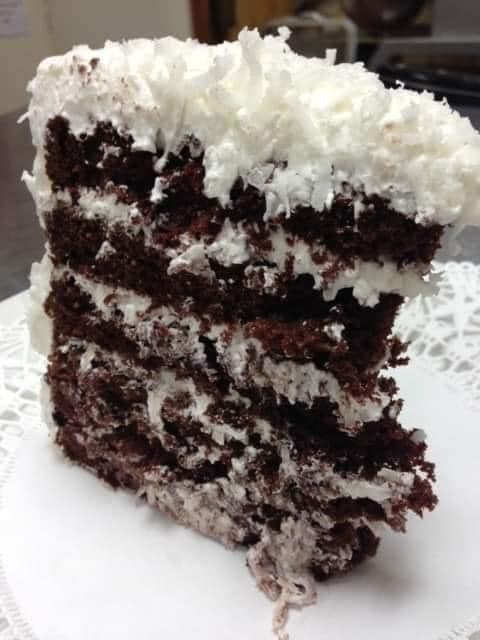 Ingredients for the cake:
1 box chocolate cake mix
1 cup water
1/2 cup vegetable oil
3 large eggs
Ingredients for the filling:
1 can (14 ounces) sweetened condensed milk
1 cup shredded sweetened coconut
Ingredients for the frosting:
1 cup heavy cream
1/4 cup powdered sugar
1 teaspoon vanilla extract
1/2 cup shredded sweetened coconut, toasted
Instructions:
Preheat your oven according to the instructions on the cake mix box. Grease and flour a 9×13-inch baking pan.
In a mixing bowl, prepare the chocolate cake batter according to the instructions on the box, using the water, vegetable oil, and eggs.
Pour the cake batter into the prepared baking pan and spread it out evenly.
Bake the cake in the preheated oven for the time indicated on the box, or until a toothpick inserted into the center comes out clean.
While the cake is baking, prepare the filling by combining the sweetened condensed milk and shredded coconut in a bowl. Mix well.
Once the cake is done baking, remove it from the oven and let it cool slightly.
Using the handle of a wooden spoon, poke holes all over the cake, about 1 inch apart.
Pour the filling mixture over the warm cake, spreading it out and gently pressing it into the holes.
In a separate mixing bowl, whip the heavy cream, powdered sugar, and vanilla extract together until stiff peaks form.
Spread the whipped cream frosting over the top of the cake, covering the coconut filling.
Sprinkle the toasted shredded coconut evenly over the frosting.
Refrigerate the Mounds Cake for at least 2 hours before serving to allow the flavors to meld together and the cake to set.
Slice and serve the chilled Mounds Cake.