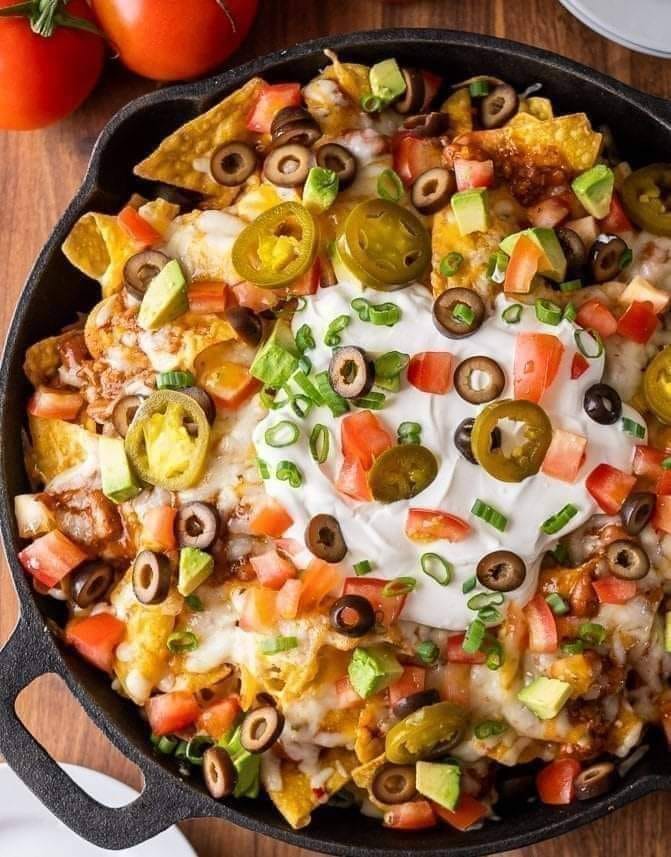 Ingredients:
6 – 8 large handfuls of corn tortilla chips
1 1/2 cups cheddar cheese, shredded
1 1/2 cups pepper jack cheese, shredded
15 oz chili , canned or homemade, warmed or room temp
1/2 cup sliced black olives
1/2 cup sliced, pickled jalapeños
1/2 cup diced tomatoes
3/4 cup sour cream
2 green onions, diced
Salsa
Instructions:
Step1: Preheat the oven to 375 degrees F.
Step2: In an oven safe pan or baking sheet lay half of the chips, then top with half the can of chili, 1/2 of the cheddar cheese, and 1/2 of the pepper jack cheese. Repeat the layering; chips, chili, cheese.
Step3: Bake in the oven for 10-12 minutes, or until the cheese is melted and gooey.
Step4: Quickly top with the black olives, jalapeños, diced tomato, sour cream, and green onions. Serve hot with a side of salsa. Enjoy!