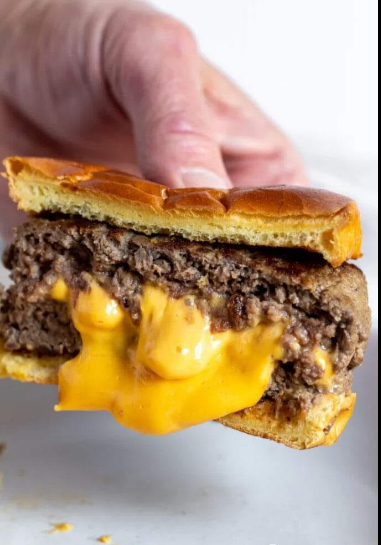 If you're a fan of cheeseburgers, you're in for a real treat with the Juicy Lucy Burger. This unique twist on the classic cheeseburger is sure to delight your taste buds and leave you craving more. This burger features a juicy patty stuffed with ooey-gooey cheese, ensuring every bite is full of flavo
— Here's what you'll need:
▢2 lbs ground beef (preferably chuck)
▢1 tablespoon Worcestershire sauce
▢1 teaspoon kosher salt
▢½ teaspoon black pepper
▢4 slices American cheese
▢Pickled jalapeño slices (optional)
▢4 brioche hamburger buns (or regular buns)
▢Optional toppings for serving, such as lettuce, tomato and onion
— How to make this delicious Juicy Lucy Burger:
To the ground beef, add Worcestershire, salt and pepper and mix to combine. Divide beef into eight equal portions and form gently into balls.
One portion at a time, place ball on piece of plastic wrap, fold over, and flatten into a disk with your hands.
It doesn't have to be perfect, but they should all be the same size patties.
Tear each slice of American cheese into 4 pieces/squares.
Place 4 torn pieces on the centers of 4 patties. If desired, add 2 to 3 slices of pickled jalapeños on top of cheese.
Place another patty on top and then with fingers, pinch and seal all around the edges, completely sealing the cheese in all 4 burgers.
Heat a cast iron skillet or fire up the grill. Cook burgers about 3 minutes a side for medium-rare, a little longer for medium.
Remove to a plate and tent with foil and let rest 5 minutes. Meanwhile, lightly toast/grill buns.
Serve Juicy Lucy's on buns with any additional toppings. Careful on that first bite! Enjoy!